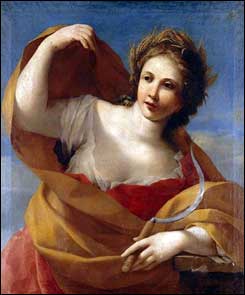 Giovanni Francesco Romanelli. Ceres, c1660.




Song to Ceres.
In the Wavering Nymph, or Mad Amyntas.*





I


Ceres, Great Goddess of the bounteous Year,
Who load'st the Teeming Earth with Gold and Grain,
Blessing the Labours of th'Industrious Swain,
And to their Plaints inclin'st thy gracious Ear:
Behold two fair Cicilian Lovers lie
Prostrate before thy Deity;
Imploring thou wilt grant the Just Desires
Of two Chaste Hearts that burn with equal Fires.



II


Amyntas he, brave, generous and young;
Whom yet no Vice his Youth has e'er betray'd:
And Chaste Urania is the Lovely Maid;
His Daughter who has serv'd thy Altars long,
As thy High Priest: A Dowry he demands
At the young Amorous Shepherds hands:
Say, gentle Goddess, what the Youth must give
E'er the Bright Maid he can from thee receive.






* Behn wrote this song for a revival of Thomas Randolph's 1638 play
Amyntas or The Impossible Dowry. The 1683-4 revival was entitled
The Wavering Nymph: Or, Mad Amyntas.


---

Source:
The Works of Aphra Behn. Vol. VI. Montague Summers, Ed.
London: William Heinemann, 1915. 177.


---
| | |
| --- | --- |
| | to Works of Aphra Behn |



Site copyright ©1996-2011 Anniina Jokinen. All rights reserved.
This page created by Anniina Jokinen on February 22, 2011.