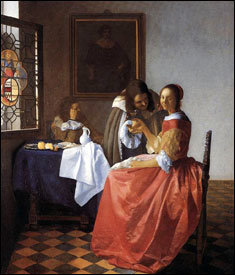 Vermeer. A Lady and Two Gentlemen, c1659.




SONG.

On her Loving Two Equally.

Set by Mr. Pack.





I


HOW strongly does my Passion flow,
Divided equally 'twixt two?
Damon had ne'er subdued my Heart,
Had not Alexis took his part;
Nor could Alexis powerful prove,
Without my Damons Aid, to gain my Love.



II


When my Alexis present is,
Then I for Damon sigh and mourn;
But when Alexis I do miss,
Damon gains nothing but my Scorn.
But if it chance they both are by,
For both alike I languish, sigh, and die.



III


Cure then, thou mighty winged God,
This restless feaver in my blood;
One Golden-Pointed Dart take back:
But which, O Cupid, wilt thou take?
If Damons, all my Hopes are crossed;
Or that of my Alexis, I am lost.



---

Source:
The Works of Aphra Behn. Vol. VI. Montague Summers, Ed.
London: William Heinemann, 1915. 189-190.


---
| | |
| --- | --- |
| | to Works of Aphra Behn |



Site copyright ©1996-2011 Anniina Jokinen. All rights reserved.
This page created by Anniina Jokinen on February 22, 2011.