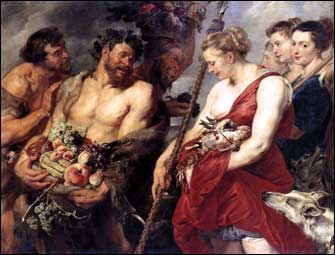 Rubens. Diana Presenting the Catch to Pan. 1615-6.




Song in the same Play, by the Wavering Nymph.*





Pan grant that I may never prove
So great a Slave to fall in love,
And to an Unknown Deity
Resign my happy Liberty:
I love to see the Amorous Swains
Unto my Scorn their Hearts resign:
With Pride I see the Meads and Plains
Throng'd all with Slaves, and they all mine:
Whilst I the whining Fools despise,
That pay their Homage to my Eyes.






* Behn wrote this song for a revival of Thomas Randolph's 1638 play
Amyntas or The Impossible Dowry. The 1683-4 revival was entitled
The Wavering Nymph: Or, Mad Amyntas.


---

Source:
The Works of Aphra Behn. Vol. VI. Montague Summers, Ed.
London: William Heinemann, 1915. 177-178.


---
| | |
| --- | --- |
| | to Works of Aphra Behn |



Site copyright ©1996-2011 Anniina Jokinen. All rights reserved.
This page created by Anniina Jokinen on February 22, 2011.