from Moral Emblems, 1882
by Robert Louis Stevenson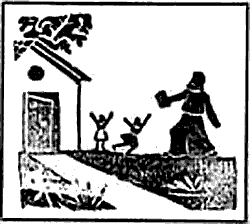 MORAL EMBLEMS I: I

See how the children in the print
Bound on the book to see what's in 't!
O, like these pretty babes, may you
Seize and apply this volume too!
And while your eye upon the cuts
With harmless ardour opes and shuts,
Reader, may your immortal mind
To their sage lessons not be blind.



---

Stevenson, Robert. Moral Emblems: And Other Poems
London: Chatto & Windus, 1921. 9.




Luminarium ©1996-2007 Anniina Jokinen. All rights reserved.
This page created on 12 May 2007 by Anniina Jokinen.