from Moral Emblems, 1882
by Robert Louis Stevenson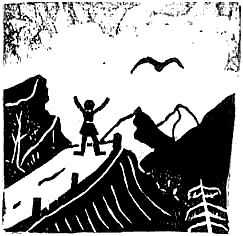 III — A PEAK IN DARIEN

Broad-gazing on untrodden lands,
See where adventurous Cortez stands;
While in the heavens above his head
The Eagle seeks its daily bread.
How aptly fact to fact replies:
Heroes and eagles, hills and skies.
Ye who contemn the fatted slave
Look on this emblem, and be brave.



---

Stevenson, Robert. Moral Emblems: And Other Poems
London: Chatto & Windus, 1921. 13.




Luminarium ©1996-2007 Anniina Jokinen. All rights reserved.
This page created on 12 May 2007 by Anniina Jokinen.