from Moral Emblems, 1882
by Robert Louis Stevenson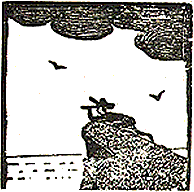 MORAL EMBLEMS II: V

Industrious pirate! see him sweep
The lonely bosom of the deep,
And daily the horizon scan
From Hatteras or Matapan.
Be sure, before that pirate's old,
He will have made a pot of gold,
And will retire from all his labours
And be respected by his neighbours.
You also scan your life's horizon
For all that you can clap your eyes on.



---

Stevenson, Robert. Moral Emblems: And Other Poems
London: Chatto & Windus, 1921. 29.




Luminarium ©1996-2007 Anniina Jokinen. All rights reserved.
This page created on 12 May 2007 by Anniina Jokinen.