from Moral Emblems, 1882
by Robert Louis Stevenson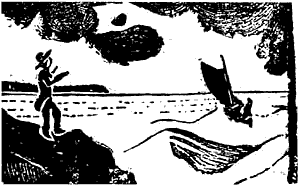 MORAL EMBLEMS II: I

With storms a-weather, rocks a-lee,
The dancing skiff puts forth to sea.
The lone dissenter in the blast
Recoils before the sight aghast.
But she, although the heavens be black,
Holds on upon the starboard tack,
For why? although to-day she sink,
Still safe she sails in printerís ink,
And though to-day the seamen drown,
My cut shall hand their memory down.



---

Stevenson, Robert. Moral Emblems: And Other Poems
London: Chatto & Windus, 1921. 21.




Luminarium ©1996-2007 Anniina Jokinen. All rights reserved.
This page created on 12 May 2007 by Anniina Jokinen.