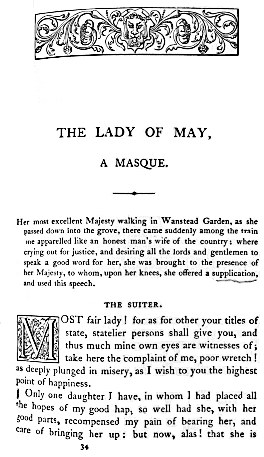 T his is the first page of Sir Philip Sidney's pageant as published in the nineteenth century. Note the changes in both visual and editorial style: the short title, the use of Roman type throughout, and elimination of the catchword. Use of the ornate initial has been retained, but the editor has changed spelling and punctuation at will and feels free to use a title not found in the original, without explanation.
After 250 years, the printing technology, letterpress, has remained in principle unchanged. Type is still foundry type set by hand, although the pages may have been printed from stereotype plates made from page proofs and then mounted on a rotary press or flatbed cylinder press.
(The Miscellaneous Works of Sir Philip Sidney, knt., ed. William Gray, Cambridge, 1860. Shown actual size.)
---
Compare this image with the preceding one in frames.