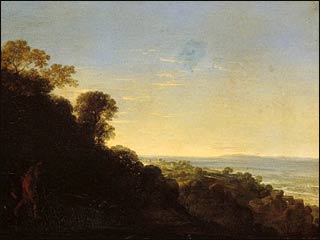 Adam Elsheimer. Aurora. 1606-7.


from

BOOK IV of VIRGIL'S AENEID.

[DEPARTURE OF AENEAS FROM CARTHAGE]




Æneas, of this sudden vision
Adread, starts up out of his sleep in haste;
Calls up his feres:1 'Awake, get up, my men,
Aboard your ships, and hoise2 up sail with speed;
A god me wills, sent from above again,
To haste my flight, and wreathen cables cut.
O holy god, what so thou art, we shall
Follow thee, and all blithe obey thy will;
Be at our hand, and friendly us assist;
Address the stars with prosperous influence.'
And with that word his glistering sword unsheaths;
With which drawn he the cables cut in twain.
The like desire the rest embraced all.
All thing in haste they cast, and forth they whirl;
The shores they leave; with ships the seas are spread;
Cutting the foam by the blue seas they sweep.
Aurora3 now from Titan's purple bed
With new daylight had overspread the earth;
When by her windows the queen the peeping day
Espied, and navy with 'splayed sails depart
The shore, and eke the port of vessels void.
Her comely breast thrice or four times she smote
With her own hand, and tore her golden tress.
' Oh Jove,' quoth she, ' shall he then thus depart,
A stranger thus, and scorn our kingdom so?





1. companions.
2. hoist.
3. Goddess of the dawn.


---

Source:
Surrey, Henry Howard, Earl of. "Fourth Book of Virgil's Aeneid."
Poetical Works of Henry Howard, Earl of Surrey. Robert Bell, Ed.
London: John W. Parker & Sons, 1854. 198.


---
| | |
| --- | --- |
| | to Works of Henry Howard |


Site copyright ©1996-2019 Anniina Jokinen. All Rights Reserved.
Created by Anniina Jokinen on August 31, 2009. Last updated January 2, 2019.








The Tudors

King Henry VII
Elizabeth of York

King Henry VIII
Queen Catherine of Aragon
Queen Anne Boleyn
Queen Jane Seymour
Queen Anne of Cleves
Queen Catherine Howard
Queen Katherine Parr

King Edward VI
Lady Jane Grey
Queen Mary I
Queen Elizabeth I


Renaissance English Writers
Bishop John Fisher
William Tyndale
Sir Thomas More
John Heywood
Thomas Sackville
Nicholas Udall
John Skelton
Sir Thomas Wyatt
Henry Howard
Hugh Latimer
Thomas Cranmer
Roger Ascham
Sir Thomas Hoby
John Foxe
George Gascoigne
John Lyly
Thomas Nashe
Sir Philip Sidney
Edmund Spenser
Richard Hooker
Robert Southwell
Robert Greene
George Peele
Thomas Kyd
Edward de Vere
Christopher Marlowe
Anthony Munday
Sir Walter Ralegh
Thomas Hariot
Thomas Campion
Mary Sidney Herbert
Sir John Davies
Samuel Daniel
Michael Drayton
Fulke Greville
Emilia Lanyer
William Shakespeare


Persons of Interest
Visit Encyclopedia


Historical Events
Field of the Cloth of Gold, 1520
Pilgrimage of Grace, 1536
The Babington Plot, 1586
The Spanish Armada, 1588


Elizabethan Theatre
See section
English Renaissance Drama


Images of London:
London in the time of Henry VII. MS. Roy. 16 F. ii.
London, 1510, the earliest view in print
Map of England from Saxton's Descriptio Angliae, 1579
Location Map of Elizabethan London
Plan of the Bankside, Southwark, in Shakespeare's time
Detail of Norden's Map of the Bankside, 1593
Bull and Bear Baiting Rings from the Agas Map (1569-1590, pub. 1631)
Sketch of the Swan Theatre, c. 1596
Westminster in the Seventeenth Century, by Hollar
Visscher's Panoramic View of London, 1616. COLOR