An Excerpt from
Fulke Greville's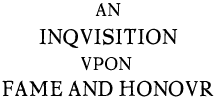 I



WHAT are Mens liues, but labyrinths of error,
Shops of deceit, and Seas of misery?
Yet Death yeelds so small comfort, so much terror ;
Gaine, Honour, Pleasure, such illusions be ;
As though against life, each man whet his wit,
Yet all Mens hearts, and sense, take part with it.



2



Of which three baytes, yet Honour seemes the chiefe,
And is vnto the world, like goodly weather,
Which giues the spirits life, the thoughts reliefe,
Delight, and trauell reconciles together :
So as the Learn'd, and Great, no more admire it,
Then euen the silly Artisans aspire it.



3



This made the foure rare masters, which begun
Faire Artemysia's husbands dainty tombe,
When death tooke her, before their worke was done,
And so bereft them of all hopes to come ;
That they would yet their own work perfect make,
Euen for their workes, and their selfe-glories sake.



4



Among the Worthies, Hercules is noted,
For Fame, to haue neglected Gaine, and Pleasure ;
Cleombrotus to haue beene so deuoted
To pease his deeds by her nice weights and measure,
As he, that to his state made his life thrall,
Yet to saue both, would not let Honour fall.



5



Which great desire, hatch'd vp in these vast Spirits,
Liues as a relicke of Mans discreation ;
When he affected to be Iudge of merits ;
Or eccho, which giues all Sounds moderation :
An image too sublime for Thrones to beare,
Who all what they command not, euer feare.



6



What was it then, made Aristotle raise
These imbound spirits to so high a rate?
Call them ingenious, ciuill, worthy praise?
The Answer's plaine, that neuer any State
Could rise, or stand, without this thirst of Glory,
Of noble workes, as well the mould as story.



7



For else, what Gouernour would spend his dayes,
In enuious trauell, for the publike good?
Who would in Bookes, search after dead mens wayes?
Or in the Warre, what Souldier lose his blood?
Liu'd not this Fame in clouds, kept as a crowne ;
Both for the Sword, the Scepter, and the Gowne.



8



It therefore much concernes each publike State,
To hoyse these costlesse sayles vp to the skye,
For it is held a symptome of ill fate,
When Crownes doe let this thirst of Glory dye;
Which doth enlarge States, by enlarging hearts,
And out of deedes teach Schooles to fashion Arts.



9



Thus see we, both the force, and vse of Fame ;
How States and Men haue honour by her stile,
As Ecchoes that enuiron orders frame,
Which disproportion waiteth to beguile.
Fame walls in Truth, and cherisheth her end,
Knowes neither why, nor how, yet is her friend.



10



For in the worlds corrupted trafficke here,
Goodnesse puts onely tincture on our gall,
The light of Truth, doth but in clouds appeare,
Hardly discern'd, and not obey'd at all :
No man yeelds glory vnto him that makes him,
For if he doe, he sees the world forsakes him.

---

Source:
Greville, Fulke. Poems and Dramas of Fulke Greville.
Geoffrey Bullough, ed.
New York: Oxford University Press, 1945. 192-194.


---
| | |
| --- | --- |
| | to the Works of Fulke Greville, Lord Brooke |

Site copyright ©1996-2007 Anniina Jokinen. All Rights Reserved.
Created by Anniina Jokinen on November 6, 1998. Last updated January 19, 2007.