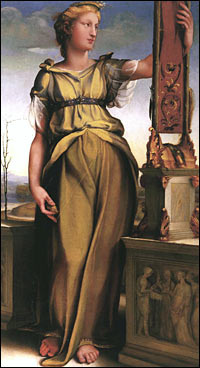 Domenico Beccafumi. Penelope. c1519.


A PRAISE OF HIS LOVE,

WHEREIN HE REPROVETH THEM THAT COMPARE THEIR



LADIES WITH HIS.



GIVE place, ye lovers, here before
That spent your boasts and brags in vain ;
My Lady's beauty passeth more
The best of yours, I dare well sayen,
Than doth the sun the candle light,
Or brightest day the darkest night.

And thereto hath a troth as just
As had Penelope the fair ;
For what she saith, ye may it trust,
As it by writing sealed were :
And virtues hath she many mo'
Than I with pen have skill to show.

I could rehearse, if that I would,
The whole effect of Nature's plaint,
When she had lost the perfit mould,
The like to whom she could not paint :
With wringing hands, how she did cry,
And what she said, I know it, aye.

I know she swore with raging mind,
Her kingdom only set apart,
There was no loss by law of kind
That could have gone so near her heart ;
And this was chiefly all her pain ;
' She could not make the like again.'

Sith Nature thus gave her the praise,
To be the chiefest work she wrought ;
In faith, methink ! some better ways
On your behalf might well be sought,
Than to compare, as ye have done,
To match the candle with the sun.



---

Source:
Surrey, Henry Howard, Earl of.
The Poetical Works of Henry Howard, Earl of Surrey.
Boston: Little, Brown and Company, 1854. 30-31.


---
| | |
| --- | --- |
| | to Works of Henry Howard |

Site copyright ©1996-2019 Anniina Jokinen. All rights reserved.
Created by Anniina Jokinen on October 1, 2000. Last updated on January 2, 2019.








The Tudors

King Henry VII
Elizabeth of York

King Henry VIII
Queen Catherine of Aragon
Queen Anne Boleyn
Queen Jane Seymour
Queen Anne of Cleves
Queen Catherine Howard
Queen Katherine Parr

King Edward VI
Lady Jane Grey
Queen Mary I
Queen Elizabeth I


Renaissance English Writers
Bishop John Fisher
William Tyndale
Sir Thomas More
John Heywood
Thomas Sackville
Nicholas Udall
John Skelton
Sir Thomas Wyatt
Henry Howard
Hugh Latimer
Thomas Cranmer
Roger Ascham
Sir Thomas Hoby
John Foxe
George Gascoigne
John Lyly
Thomas Nashe
Sir Philip Sidney
Edmund Spenser
Richard Hooker
Robert Southwell
Robert Greene
George Peele
Thomas Kyd
Edward de Vere
Christopher Marlowe
Anthony Munday
Sir Walter Ralegh
Thomas Hariot
Thomas Campion
Mary Sidney Herbert
Sir John Davies
Samuel Daniel
Michael Drayton
Fulke Greville
Emilia Lanyer
William Shakespeare


Persons of Interest
Visit Encyclopedia


Historical Events
Field of the Cloth of Gold, 1520
Pilgrimage of Grace, 1536
The Babington Plot, 1586
The Spanish Armada, 1588


Elizabethan Theatre
See section
English Renaissance Drama


Images of London:
London in the time of Henry VII. MS. Roy. 16 F. ii.
London, 1510, the earliest view in print
Map of England from Saxton's Descriptio Angliae, 1579
Location Map of Elizabethan London
Plan of the Bankside, Southwark, in Shakespeare's time
Detail of Norden's Map of the Bankside, 1593
Bull and Bear Baiting Rings from the Agas Map (1569-1590, pub. 1631)
Sketch of the Swan Theatre, c. 1596
Westminster in the Seventeenth Century, by Hollar
Visscher's Panoramic View of London, 1616. COLOR