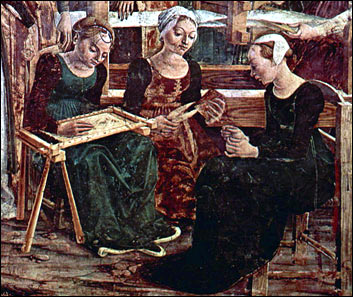 Detail of Ladies Sewing, from 'Allegory of March:
Triumph of Minerva' by Francesco del Cossa, c.1470.


COMPLAINT OF THE ABSENCE OF HER LOVER,
BEING UPON THE SEA.




GOOD ladies ! ye that have your pleasure in exile,
Step in your foot, come, take a place, and mourn with me awhile :
And such as by their lords do set but little price,
Let them sit still, it skills them not what chance come on the dice.
But ye whom Love hath bound, by order of desire,
To love your Lords, whose good deserts none other would require ;
Come ye yet once again, and set your foot by mine,
Whose woful plight, and sorrows great, no tongue may well define.
My love and lord, alas ! in whom consists my wealth,
Hath fortune sent to pass the seas, in hazard of his health.
Whom I was wont t'embrace with well contented mind,
Is now amid the foaming floods at pleasure of the wind.
There God will him preserve, and soon him home me send ;
Without which hope my life, alas ! were shortly at an end.
Whose absence yet, although my hope doth tell me plain,
With short return he comes anon, yet ceaseth not my pain.
The fearful dreams I have ofttimes do grieve me so,
That when I wake, I lie in doubt, where they be true or no.
Sometime the roaring seas, me seems, do grow so high,
That my dear Lord, ay me ! alas ! methinks I see him die.
And other time the same, doth tell me he is come,
And playing, where I shall him find, with his fair little son.1
So forth I go apace to see that liefsome sight,
And with a kiss, methinks I say, ' Welcome, my Lord, my knight ;
Welcome, my sweet ; alas ! the stay of my welfare ;
Thy presence bringeth forth a truce betwixt me and my care.'
Then lively doth he look, and salueth me again,
And saith, ' My dear, how is it now that you have all this pain ?'
Wherewith the heavy cares, that heap'd are in my breast,
Break forth and me dischargen clean, of all my huge unrest.
But when I me awake, and find it but a dream,
The anguish of my former woe beginneth more extreme ;
And me tormenteth so that unneath2 may I find
Some hidden place, wherein to slake the gnawing of my mind.
Thus every way you see, with absence how I burn ;
And for my wound no cure I find, but hope of good return :
Save when I think, by sour how sweet is felt the more,
It doth abate some of my pains, that I abode before.
And then unto myself I say : ' When we shall meet,
But little while shall seem this pain ; the joy shall be so sweet.'
Ye winds, I you conjure, in chiefest of your rage,
That ye my Lord me safely send, my sorrows to assuage.
And that I may not long abide in this excess,
Do your good will to cure a wight, that liveth in distress.




1 In the copy printed by Dr. Nott from the Harrington MS.
this line stands,
" And playing, where I shall him find with T. his little son; "
which induces that writer to observe : " This proves the piece
to have been written, not as an exercise of fancy, but for some
existing person." If this conjecture be correct, the Complainant
may have been intended for Lady Surrey, and " T. his little
son," for Thomas her eldest son, afterwards Duke of Norfolk.
2 With difficulty.


---

Source:
Surrey, Henry Howard, Earl of.
The Poetical Works of Henry Howard, Earl of Surrey.
Boston: Little, Brown and Company, 1854. 27-30.


---
| | |
| --- | --- |
| | to Works of Henry Howard |

Site copyright ©1996-2019 Anniina Jokinen. All rights reserved.
Created by Anniina Jokinen on September 30, 2000. Last updated on January 2, 2019.








The Tudors

King Henry VII
Elizabeth of York

King Henry VIII
Queen Catherine of Aragon
Queen Anne Boleyn
Queen Jane Seymour
Queen Anne of Cleves
Queen Catherine Howard
Queen Katherine Parr

King Edward VI
Lady Jane Grey
Queen Mary I
Queen Elizabeth I


Renaissance English Writers
Bishop John Fisher
William Tyndale
Sir Thomas More
John Heywood
Thomas Sackville
Nicholas Udall
John Skelton
Sir Thomas Wyatt
Henry Howard
Hugh Latimer
Thomas Cranmer
Roger Ascham
Sir Thomas Hoby
John Foxe
George Gascoigne
John Lyly
Thomas Nashe
Sir Philip Sidney
Edmund Spenser
Richard Hooker
Robert Southwell
Robert Greene
George Peele
Thomas Kyd
Edward de Vere
Christopher Marlowe
Anthony Munday
Sir Walter Ralegh
Thomas Hariot
Thomas Campion
Mary Sidney Herbert
Sir John Davies
Samuel Daniel
Michael Drayton
Fulke Greville
Emilia Lanyer
William Shakespeare


Persons of Interest
Visit Encyclopedia


Historical Events
Field of the Cloth of Gold, 1520
Pilgrimage of Grace, 1536
The Babington Plot, 1586
The Spanish Armada, 1588


Elizabethan Theatre
See section
English Renaissance Drama


Images of London:
London in the time of Henry VII. MS. Roy. 16 F. ii.
London, 1510, the earliest view in print
Map of England from Saxton's Descriptio Angliae, 1579
Location Map of Elizabethan London
Plan of the Bankside, Southwark, in Shakespeare's time
Detail of Norden's Map of the Bankside, 1593
Bull and Bear Baiting Rings from the Agas Map (1569-1590, pub. 1631)
Sketch of the Swan Theatre, c. 1596
Westminster in the Seventeenth Century, by Hollar
Visscher's Panoramic View of London, 1616. COLOR