GULLINGE SONNETS
By Sir John Davies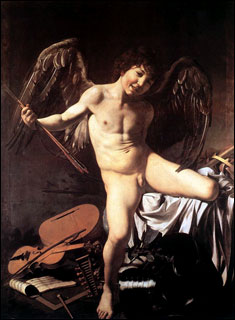 Caravaggio. Amor Victorious, 1602-3.


VI.



The sacred Muse that first made love divine
Hath made him naked and without attire,
But I will clothe him with this pen of mine
That all the world his fashion shall admire.
His hat of hope, his band of beauty fine,
His cloak of craft, his doublet of desire,
Grief for a girdle, shall about him twine,
His points of pride, his eyelet holes of ire,
His hose of hate, his codpiece of conceit,
His stockings of stern strife, his shirt of shame,
His garters of vainglory gay and fleet ;
His pantofles of passions I will frame,
Pumps5 of presumption shall adorn his feet
And socks of fullness exceeding sweet.




fleet, quick.
pantofles, slippers.

5 = slipper-shoes. (Grosart's note).



---

Note on the text:
Transcribed and modernized by Anniina Jokinen from

Davies, Sir John. The Complete Poems of Sir John Davies. Vol II.
Rev. Alexander B, Grosart, Ed.
London: Chatto and Windus, Piccadilly, 1876. 60.


---
| | |
| --- | --- |
| | to Works of Sir John Davies |
Site copyright ©1996-2011 Anniina Jokinen. All Rights Reserved.
Created by Anniina Jokinen on November 12, 1999. Last updated December 11, 2011.






The Tudors

King Henry VII
Elizabeth of York

King Henry VIII
Queen Catherine of Aragon
Queen Anne Boleyn
Queen Jane Seymour
Queen Anne of Cleves
Queen Catherine Howard
Queen Katherine Parr

King Edward VI
Lady Jane Grey
Queen Mary I
Queen Elizabeth I


Renaissance English Writers
Bishop John Fisher
William Tyndale
Sir Thomas More
John Heywood
Thomas Sackville
Nicholas Udall
John Skelton
Sir Thomas Wyatt
Henry Howard
Hugh Latimer
Thomas Cranmer
Roger Ascham
Sir Thomas Hoby
John Foxe
George Gascoigne
John Lyly
Thomas Nashe
Sir Philip Sidney
Edmund Spenser
Richard Hooker
Robert Southwell
Robert Greene
George Peele
Thomas Kyd
Edward de Vere
Christopher Marlowe
Anthony Munday
Sir Walter Ralegh
Thomas Hariot
Thomas Campion
Mary Sidney Herbert
Sir John Davies
Samuel Daniel
Michael Drayton
Fulke Greville
Emilia Lanyer
William Shakespeare


Persons of Interest
Visit Encyclopedia


Historical Events
Field of the Cloth of Gold, 1520
Pilgrimage of Grace, 1536
The Babington Plot, 1586
The Spanish Armada, 1588


Elizabethan Theatre
See section
English Renaissance Drama


Images of London:
London in the time of Henry VII. MS. Roy. 16 F. ii.
London, 1510, the earliest view in print
Map of England from Saxton's Descriptio Angliae, 1579
Location Map of Elizabethan London
Plan of the Bankside, Southwark, in Shakespeare's time
Detail of Norden's Map of the Bankside, 1593
Bull and Bear Baiting Rings from the Agas Map (1569-1590, pub. 1631)
Sketch of the Swan Theatre, c. 1596
Westminster in the Seventeenth Century, by Hollar
Visscher's Panoramic View of London, 1616. COLOR