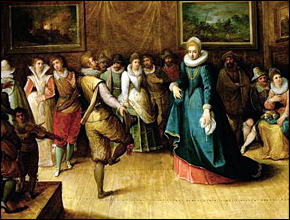 Excerpt from

Orchestra, or A Poem of Dancing

by Sir John Davies

[Dancing Justified]
16


"Sole heir of virtue, and of beauty both,
Whence cometh it," Antinous replies,
"That your imperious virtue is so loath
To grant your beauty her chief excercise?
Or from what spring doth your opinion rise
    That dancing is a frenzy and a rage,
    First known and used in this new-fangled age?


17


"Dancing, bright lady, then began to be
When the first seeds whereof the world did spring,
The fire, air, earth and water did agree,
By Love's persuasion, nature's mighty king,
To leave their first disordered combating
    And in a dance such measure to observe
    As all the world their motion should preserve.


18


"Since when they still are carried in a round,
And changing come one in another's place,
Yet do they neither mingle nor confound,
But every one doth keep his bounded space
Wherein the dance doth bid it turn or trace.
    This wondrous miracle doth Love devise,
    For dancing is Love's proper exercise.


19


"Like this he framed the gods' eternal bower
And of a shapeless and confusèd mass,
By his through-piercing and digesting power
The turning vault of heaven formèd was,
Whose starry wheels he hath so made to pass
    As that their movings do a music frame
    And they themselves still dance unto the same.


20


"Or if this all which round about we see,
As idle Morpheus some sick brains have taught,
Of undivided motes compact be,
How was this goodly architecture wrought?
Or by what means where they together brought?
    They err that say they did concur by chance;
    Love made them meet in a well-ordered dance.


21


"As when Amphion with his charming lyre
Begot so sweet a siren of the air
That with her rhetoric made the stones conspire
The ruins of a city to repair,
A work of wit, and reason's wise affair,
    So Love's smooth tongue the motes such measures taught
    That they joined hands, and so the world was wrought.


22


"How justly then is dancing termèd new,
Which with the world in point of time begun?
Yea, time itself, whose birth Jove never knew,
And which indeed is elder than the sun,
Had not one moment of his age outrun,
    When out leaped dancing from the heap of things
    And lightly rode upon his nimble wings.


23


"Reason hath both their pictures in her treasure,
Where time the measure of all moving is,
And dancing is a moving all in measure.
Now if you do resemble that to this
And think both one, I think you think amiss;
    But if you judge them twins, together got,
    And time firstborn, your judgment erreth not.


24


"Thus doth it equal age with age enjoy,
And yet in lusty youth forever flowers,
Like Love, his sire, whom painters make a boy,
Yet is he eldest of the heavenly powers,
Or like his brother time, whose wingèd hours
    Going and coming, will not let him die,
    But still preserve him in his infancy."

1596




---

Source:
The Norton Anthology of English Literature, 6th Ed. Vol I.
M. H. Abrams, ed. New York: W. W. Norton & Co., 1993. 1049-1050.


---
| | |
| --- | --- |
| | to Works of Sir John Davies |

Site copyright ©1996-2012 Anniina Jokinen. All Rights Reserved.
Created by Anniina Jokinen on August 9, 1996. Last updated February 13, 2012.






The Tudors

King Henry VII
Elizabeth of York

King Henry VIII
Queen Catherine of Aragon
Queen Anne Boleyn
Queen Jane Seymour
Queen Anne of Cleves
Queen Catherine Howard
Queen Katherine Parr

King Edward VI
Lady Jane Grey
Queen Mary I
Queen Elizabeth I


Renaissance English Writers
Bishop John Fisher
William Tyndale
Sir Thomas More
John Heywood
Thomas Sackville
Nicholas Udall
John Skelton
Sir Thomas Wyatt
Henry Howard
Hugh Latimer
Thomas Cranmer
Roger Ascham
Sir Thomas Hoby
John Foxe
George Gascoigne
John Lyly
Thomas Nashe
Sir Philip Sidney
Edmund Spenser
Richard Hooker
Robert Southwell
Robert Greene
George Peele
Thomas Kyd
Edward de Vere
Christopher Marlowe
Anthony Munday
Sir Walter Ralegh
Thomas Hariot
Thomas Campion
Mary Sidney Herbert
Sir John Davies
Samuel Daniel
Michael Drayton
Fulke Greville
Emilia Lanyer
William Shakespeare


Persons of Interest
Visit Encyclopedia


Historical Events
Field of the Cloth of Gold, 1520
Pilgrimage of Grace, 1536
The Babington Plot, 1586
The Spanish Armada, 1588


Elizabethan Theatre
See section
English Renaissance Drama


Images of London:
London in the time of Henry VII. MS. Roy. 16 F. ii.
London, 1510, the earliest view in print
Map of England from Saxton's Descriptio Angliae, 1579
Location Map of Elizabethan London
Plan of the Bankside, Southwark, in Shakespeare's time
Detail of Norden's Map of the Bankside, 1593
Bull and Bear Baiting Rings from the Agas Map (1569-1590, pub. 1631)
Sketch of the Swan Theatre, c. 1596
Westminster in the Seventeenth Century, by Hollar
Visscher's Panoramic View of London, 1616. COLOR