HENRY HOWARD, EARL OF SURREY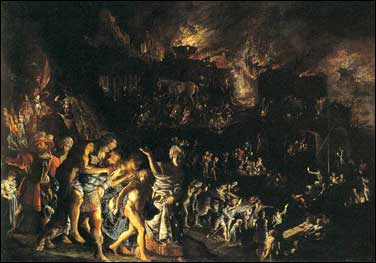 Adam Elshmeimer. The Burning of Troy. c1601.


THE LOVER COMFORTETH HIMSELF WITH
THE WORTHINESS OF HIS LOVE.




WHEN raging love with extreme pain
Most cruelly distrains my heart ;
When that my tears, as floods of rain,
Bear witness of my woful smart ;
When sighs have wasted so my breath
That I lie at the point of death :

I call to mind the navy great
That the Greeks brought to Troy town :
And how the boisterous winds did beat
Their ships, and rent their sails adown ;
Till Agamemnon's daughter's blood
Appeas'd the Gods that them withstood.

And how that in those ten years war
Full many a bloody deed was done ;
And many a lord that came full far,
There caught his bane, alas ! too soon ;
And many a good knight overrun,
Before the Greeks had Helen won.

Then think I thus : ' Sith such repair,
So long time war of valiant men,
Was all to win a lady fair,
Shall I not learn to suffer then ?
And think my life well spent to be,
Serving a worthier wight than she ?'

Therefore I never will repent,
But pains contented still endure ;
For like as when, rough winter spent,
The pleasant spring straight draweth in ure ;
So after raging storms of care,
Joyful at length may be my fare.



---

Source:
Surrey, Henry Howard, Earl of.
The Poetical Works of Henry Howard, Earl of Surrey.
Boston: Little, Brown and Company, 1854. 20-21.


---
| | |
| --- | --- |
| | to Works of Henry Howard |


Site copyright ©1996-2009 Anniina Jokinen. All Rights Reserved.
Created by Anniina Jokinen on September 26, 2000. Last updated on August 26, 2009.








The Tudors

King Henry VII
Elizabeth of York

King Henry VIII
Queen Catherine of Aragon
Queen Anne Boleyn
Queen Jane Seymour
Queen Anne of Cleves
Queen Catherine Howard
Queen Katherine Parr

King Edward VI
Lady Jane Grey
Queen Mary I
Queen Elizabeth I


Renaissance English Writers
Bishop John Fisher
William Tyndale
Sir Thomas More
John Heywood
Thomas Sackville
Nicholas Udall
John Skelton
Sir Thomas Wyatt
Henry Howard
Hugh Latimer
Thomas Cranmer
Roger Ascham
Sir Thomas Hoby
John Foxe
George Gascoigne
John Lyly
Thomas Nashe
Sir Philip Sidney
Edmund Spenser
Richard Hooker
Robert Southwell
Robert Greene
George Peele
Thomas Kyd
Edward de Vere
Christopher Marlowe
Anthony Munday
Sir Walter Ralegh
Thomas Hariot
Thomas Campion
Mary Sidney Herbert
Sir John Davies
Samuel Daniel
Michael Drayton
Fulke Greville
Emilia Lanyer
William Shakespeare


Persons of Interest
Visit Encyclopedia


Historical Events
Field of the Cloth of Gold, 1520
Pilgrimage of Grace, 1536
The Babington Plot, 1586
The Spanish Armada, 1588


Elizabethan Theatre
See section
English Renaissance Drama


Images of London:
London in the time of Henry VII. MS. Roy. 16 F. ii.
London, 1510, the earliest view in print
Map of England from Saxton's Descriptio Angliae, 1579
Location Map of Elizabethan London
Plan of the Bankside, Southwark, in Shakespeare's time
Detail of Norden's Map of the Bankside, 1593
Bull and Bear Baiting Rings from the Agas Map (1569-1590, pub. 1631)
Sketch of the Swan Theatre, c. 1596
Westminster in the Seventeenth Century, by Hollar
Visscher's Panoramic View of London, 1616. COLOR