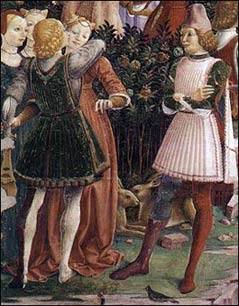 'Allegory of March: Triumph of Venus' [det.]
Francesco del Cossa, c1470.


A WARNING TO THE LOVER, HOW HE IS
ABUSED BY HIS LOVE.



TOO dearly had I bought my green and youthful years,
If in mine age I could not find when craft for love appears.
And seldom though I come in court among the rest,
Yet can I judge in colours dim, as deep as can the best.
Where grief torments the man that suff'reth secret smart,
To break it forth unto some friend, it easeth well the heart.
So stands it now with me, for, my beloved friend,
This case is thine, for whom I feel such torment of my mind.
And for thy sake I burn so in my secret breast,
That till thou know my whole disease, my heart can have no rest,
I see how thine abuse hath wrested so thy wits,
That all it yields to thy desire, and follows thee by fits.
Where thou hast loved so long, with heart, and all thy power,
I see thee fed with feigned words, thy freedom to devour

:


I know (though she say nay, and would it well withstand)
When in her grace thou held thee most, she bare thee but in hand.
I see her pleasant chere in chiefest of thy suit ;
When thou art gone, I see him come that gathers up the fruit.
And eke in thy respect, I see the base degree
Of him to whom she gave her heart, that promised was to thee.
I see, (what would you more,) stood never man so sure
On woman's word, but wisdom would mistrust it to endure.


---

Audio reading ©2003 Anniina Jokinen:
For the direct .MP3 file, click here.


---

Source:
Surrey, Henry Howard, Earl of.
The Poetical Works of Henry Howard, Earl of Surrey.
Boston: Little, Brown and Company, 1854. 34-35.


---
| | |
| --- | --- |
| | to Works of Henry Howard |


Site copyright ©1996-2019 Anniina Jokinen. All Rights Reserved.
Created by Anniina Jokinen on September 24, 2003. Last updated on January 2, 2019.








The Tudors

King Henry VII
Elizabeth of York

King Henry VIII
Queen Catherine of Aragon
Queen Anne Boleyn
Queen Jane Seymour
Queen Anne of Cleves
Queen Catherine Howard
Queen Katherine Parr

King Edward VI
Lady Jane Grey
Queen Mary I
Queen Elizabeth I


Renaissance English Writers
Bishop John Fisher
William Tyndale
Sir Thomas More
John Heywood
Thomas Sackville
Nicholas Udall
John Skelton
Sir Thomas Wyatt
Henry Howard
Hugh Latimer
Thomas Cranmer
Roger Ascham
Sir Thomas Hoby
John Foxe
George Gascoigne
John Lyly
Thomas Nashe
Sir Philip Sidney
Edmund Spenser
Richard Hooker
Robert Southwell
Robert Greene
George Peele
Thomas Kyd
Edward de Vere
Christopher Marlowe
Anthony Munday
Sir Walter Ralegh
Thomas Hariot
Thomas Campion
Mary Sidney Herbert
Sir John Davies
Samuel Daniel
Michael Drayton
Fulke Greville
Emilia Lanyer
William Shakespeare


Persons of Interest
Visit Encyclopedia


Historical Events
Field of the Cloth of Gold, 1520
Pilgrimage of Grace, 1536
The Babington Plot, 1586
The Spanish Armada, 1588


Elizabethan Theatre
See section
English Renaissance Drama


Images of London:
London in the time of Henry VII. MS. Roy. 16 F. ii.
London, 1510, the earliest view in print
Map of England from Saxton's Descriptio Angliae, 1579
Location Map of Elizabethan London
Plan of the Bankside, Southwark, in Shakespeare's time
Detail of Norden's Map of the Bankside, 1593
Bull and Bear Baiting Rings from the Agas Map (1569-1590, pub. 1631)
Sketch of the Swan Theatre, c. 1596
Westminster in the Seventeenth Century, by Hollar
Visscher's Panoramic View of London, 1616. COLOR