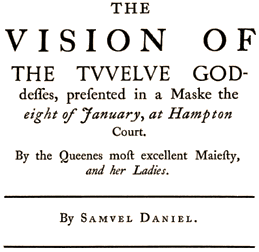 Somnus .

Ear Mother Night, I your commandment
   Obey, and Dreams t'interpret Dreams will make,
As / waking curiosity is wont
Though better dream asleep, than dream awake.
And this white horny Wand shall work the deed
Whose power doth Figures of the light present:
When from this sable radius doth proceed
Naught but confused shows, to no intent.
Be this a Temple; there Sybilla stand,
Preparing reverent Rites with holy hand;
And so bright visions go, and entertain
All round about, whilst I'll to sleep again.

---

Transcribed and modernized by Anniina Jokinen from
Daniel, Samuel. The Complete Works in Verse and Prose of Samuel Daniel. vol 3.
A. B. Grosart, ed. New York: Rusell & Russell, Inc., 1885, Reissued in 1963. 198.


---
| | |
| --- | --- |
| | to Works of Samuel Daniel |

Created by Anniina Jokinen on June 5, 1997.
Site copyright ©1996-2007 Anniina Jokinen. All Rights Reserved.