Abraham Cowley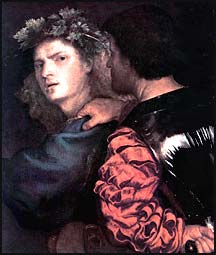 Titian. The Bravo, c1520.
Kunsthistorisches Museum, Vienna.

from "The Mistress"

COUNSEL.



AH! what advice can I receive!
No, satisfy me first;
For who would physick-potions give
To one that dies with thirst?

A little puff of breath, we find,
Small fires can quench and kill;
But, when they're great, the adverse wind
Does make them greater still.

Now whilst you speak, it moves me much,
But straight I'm just the same;
Alas! th' effect must needs be such
Of cutting through a flame.




---
Source:
Cowley, Abraham. The Works of Mr. A. Cowley. vol 2.
Richard Hurd, ed.
London: John Sharpe, 1809. 96.

---
| | |
| --- | --- |
| | Back to Abraham Cowley |
Site copyright ©1996-2007 Anniina Jokinen. All Rights Reserved.
Created by Anniina Jokinen on January 4, 2007.