WOMAN'S CONSTANCY.
by John Donne


NOW thou hast loved me one whole day,
To-morrow when thou leavest, what wilt thou say ?
Wilt thou then antedate some new-made vow ?
Or say that now
We are not just those persons which we were ?
Or that oaths made in reverential fear
Of Love, and his wrath, any may forswear ?
Or, as true deaths true marriages untie,
So lovers' contracts, images of those,
Bind but till sleep, death's image, them unloose ?
Or, your own end to justify,
For having purposed change and falsehood, you
Can have no way but falsehood to be true ?
Vain lunatic, against these 'scapes I could
Dispute, and conquer, if I would ;
Which I abstain to do,
For by to-morrow I may think so too.



---
Source:
Donne, John. Poems of John Donne. vol I.
E. K. Chambers, ed.
London: Lawrence & Bullen, 1896. 5.

---
| | |
| --- | --- |
| | to John Donne |


Copyright © 1996-2003 Anniina Jokinen. All Rights Reserved.
Created by Anniina Jokinen on August 11, 1999.

Background by the kind permission of Stormi Wallpaper Boutique.





©2003 Anniina Jokinen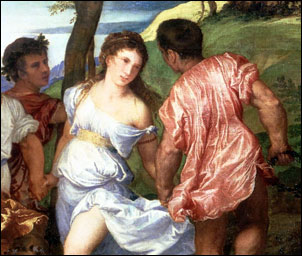 Titian. Bacchanal of the Andrians, detail. 1523.
Museo del Prado, Madrid.