FRESH CHEESE AND CREAM.

WOULD ye have fresh cheese and cream ?
Julia's breast can give you them :
And, if more, each nipple cries :
To your cream here's strawberries.



---
Source:
Herrick, Robert. Works of Robert Herrick. vol I.
Alfred Pollard, ed.
London, Lawrence & Bullen, 1891. 229.

---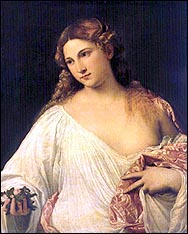 Titian. Flora, c.1515. The Uffizi, Florence.