TO DIANEME. (III)
by Robert Herrick


SHOW me thy feet ; show me thy legs, thy thighs ;
Show me those fleshy principalities ;
Show me that hill where smiling love doth sit,
Having a living fountain under it ;
Show me thy waist, then let me therewithal,
By the assention of thy lawn, see all.



---
Source:
Herrick, Robert. Works of Robert Herrick. vol I.
Alfred Pollard, ed.
London, Lawrence & Bullen, 1891. 193.

---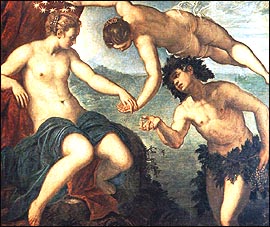 Tintoretto. Ariadne, Venus and Bacchus. 1576.