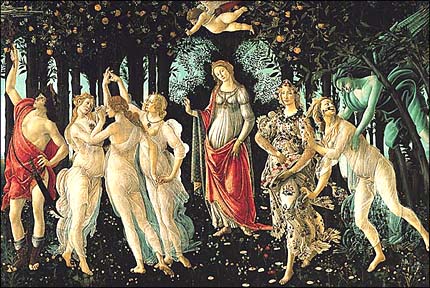 Botticelli. Primavera. 1477-80. Galleria degli Uffizi, Firenze.


THE SUCCESSION OF THE
FOUR SWEET MONTHS.
by Robert Herrick



FIRST, April, she with mellow showers
Opens the way for early flowers ;
Then after her comes smiling May,
In a more rich and sweet array ;
Next enters June, and brings us more
Gems than those two that went hefore :
Then (lastly) July comes, and she
More wealth brings in than all those three.

---
Source:
Herrick, Robert. Works of Robert Herrick. vol I.
Alfred Pollard, ed.
London, Lawrence & Bullen, 1891. 26.

---
| | |
| --- | --- |
| | to Works of Robert Herrick |
Site copyright ©1996-2002 Anniina Jokinen. All Rights Reserved.
Created by Anniina Jokinen on October 4, 1998. Last updated on March 2, 2002.

Background from a tile by Stormi Wallpaper Boutique.