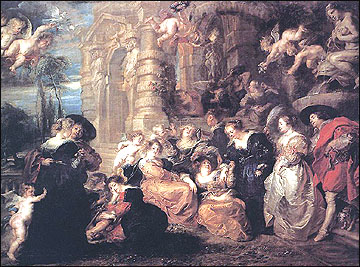 Rubens. The Garden of Love. c.1633.




A LYRIC TO MIRTH.
by Robert Herrick


WHILE the milder fates consent,
Let's enjoy our merriment :
Drink, and dance, and pipe, and play ;
Kiss our dollies night and day :
Crowned with clusters of the vine,
Let us sit, and quaff our wine.
Call on Bacchus, chant his praise ;
Shake the thyrse, and bite the bays :
Rouse Anacreon from the dead,
And return him drunk to bed :
Sing o'er Horace, for ere long
Death will come and mar the song :
Then shall Wilson and Gotiere
Never sing or play more here.


Wilson, Dr. John Wilson, the singer and composer,
one of the king's musicians (1594-1673).
Gotiere, Jacques Gouter, a French musician at the
court of Charles I.




---
Source:
Herrick, Robert. Works of Robert Herrick. vol I.
Alfred Pollard, ed.
London, Lawrence & Bullen, 1891. 46.

---
| | |
| --- | --- |
| | to Works of Robert Herrick |
Site copyright ©1996-2001 Anniina Jokinen. All Rights Reserved.
Created by Anniina Jokinen on October 23, 1998. Last updated on February 16, 2001.

Background from a tile by Stormi Wallpaper Boutique.