LET there be patrons, patrons like to thee,
Brave Porter ! poets ne'er will wanting be :
Fabius and Cotta, Lentulus, all live
In thee, thou man of men ! who here do'st give
Not only subject-matter for our wit,
But likewise oil of maintenance to it :
For which, before thy threshold, we'll lay down
Our thyrse for sceptre, and our bays for crown.
For, to say truth, all garlands are thy due :
The laurel, myrtle, oak, and ivy too.








---
Source:
Herrick, Robert. Works of Robert Herrick. vol I.
Alfred Pollard, ed.
London, Lawrence & Bullen, 1891. 49.

---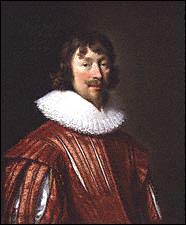 Daniel Mytens. Endymion Porter. 1627.


* "The friend and patron of poets
and artists, Porter was a protégé
of Charles I's favourite, the Duke
of Buckingham. He was instru-
mental in bringing Van Dyck to
England and the King admired
him 'for his general learning,
brave stile, sweet temper, great
experience, travels and modern
languages'."


—National Portrait Gallery.