Robert Herrick



UPON JULIA'S RIBAND.




AS shows the air when with a rainbow grac'd,
So smiles that riband 'bout my Julia's waist
Or like—nay 'tis that zonulet of love,
Wherein all pleasures of the world are wove.





---
Source:
Herrick, Robert. Works of Robert Herrick. vol I.
Alfred Pollard, ed.
London, Lawrence & Bullen, 1891. 47.

---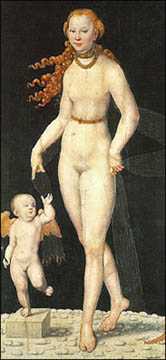 Venus and Amor. (c.1536?)
Lucas Cranach, the Younger.
Alte Pinakothek, Munich.