TO SPRINGS AND FOUNTAINS.
by Robert Herrick


I HEARD ye could cool heat, and came
With hope you would allay the same ;
Thrice I have wash'd but feel no cold,
Nor find that true which was foretold.
Methinks, like mine, your pulses beat
And labour with unequal heat ;
Cure, cure yourselves, for I descry
Ye boil with love as well as I.



---
Source:
Herrick, Robert. Works of Robert Herrick. vol I.
Alfred Pollard, ed.
London, Lawrence & Bullen, 1891. 196.

---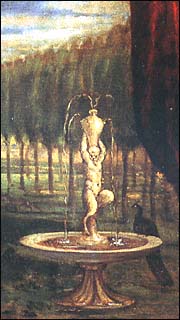 Titian. Venus with Organist and Cupid [detail]. 1548.