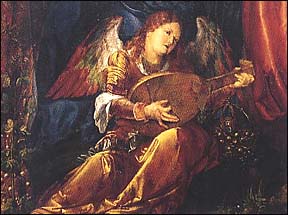 Feast of the Rose Garlands. Dürer, 1506.



UPON A GENTLEWOMAN WITH A SWEET VOICE.
by Robert Herrick


SO long you did not sing or touch your lute,
We knew 'twas flesh and blood that there sat mute.
But when your playing and your voice came in,
'Twas no more you then, but a cherubin.



---
Source:
Herrick, Robert. Works of Robert Herrick. vol I.
Alfred Pollard, ed.
London, Lawrence & Bullen, 1891. 119.

---
| | |
| --- | --- |
| | to Works of Robert Herrick |
Site copyright ©1996-2000 Anniina Jokinen. All Rights Reserved.
Created by Anniina Jokinen on August 2, 2000.

Background from a tile by Stormi Wallpaper Boutique.