TO APOLLO. A SHORT HYMN.
by Robert Herrick


PHOEBUS ! when that I a verse
Or some numbers more rehearse,
Tune my words that they may fall
Each way smoothly musical :
For which favour there shall be
Swans devoted unto thee.



---
Source:
Herrick, Robert. Works of Robert Herrick. vol I.
Alfred Pollard, ed.
London, Lawrence & Bullen, 1891. 152-153.

---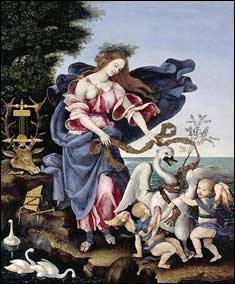 Filippino Lippi. Erato, or Allegory of Music.
1505-10. Staatliche Museen, Berlin.