THE WOUNDED CUPID. SONG.
by Robert Herrick


CUPID, as he lay among
Roses, by a bee was stung ;
Whereupon, in anger flying
To his mother, said thus, crying :
Help ! oh help ! your boy's a-dying.
And why, my pretty lad, said she ?
Then, blubbering, replied he :
A winged snake has bitten me,
Which country people call a bee.
At which she smiled ; then, with her hairs
And kisses drying up his tears :
Alas ! said she, my wag, if this
Such a pernicious torment is,
Come tell me then, how great's the smart
Of those thou woundest with thy dart !



---
Source:
Herrick, Robert. Works of Robert Herrick. vol I.
Alfred Pollard, ed.
London, Lawrence & Bullen, 1891. 59.

---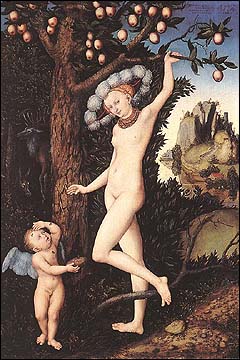 Lucas Cranach I (1472-1553).
Cupid Complaining to Venus.