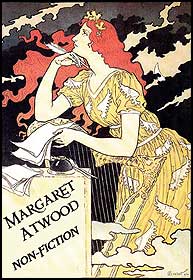 Margaret Atwood's Non-Fiction Books


Margaret Atwood's non-fiction writings include literary criticism, studies, autobiographical essays, book reviews, political essays, eulogies, ecological writings, and other journalism and essays. Written with her energetic style, keen intellect and dry wit, these collections of her non-fiction further affirm Margaret Atwood as one of our most luminary writers.


Margaret Atwood Non-Fiction Books:


Survival: A Thematic Guide to Canadian Literature;
Anansi, 1972; McClelland & Stewart, 1996; 2004.




Days of the Rebels 1815-1840;
Toronto, Natural Science of Canada, 1977.




Second Words: Selected Critical Prose;
Anansi, 1982, 1998, 2004; Beacon Press, 1984.




Strange Things: The Malevolent North in Canadian Literature;
Oxford University Press, 1995, 1996; Virago Press, 2004.




Two Solicitudes: Conversations [with Victor-LÚvy Beaulieu];
McClelland & Stewart, 1998.




Negotiating with the Dead: A Writer on Writing;
Cambridge University Press, 2002; Anchor Books, 2003; Virago Press 2003.




Moving Targets: Writing with Intent 1982-2004;
House of Anansi Press, 2004; Carroll & Graf, 2005.




Curious Pursuits: Occasional Writing
Virago, 2005, 2006.


| | |
| --- | --- |
| | to Margaret Atwood |




Luminarium Copyright ©1996-2007 Anniina Jokinen. All Rights Reserved.
Book cover images remain under the copyright of their respective copyright owners.
This page created on December 18, 2006 by Anniina Jokinen. Last updated January 3, 2007.

About this Website | Luminarium Privacy Statement.


Margaret Atwood has gone on to become not just
a major Canadian Writer, and a woman writer (whom some would call a Feminist Writer),
but an award-winning author of English literature. Her works include novels,
short stories, poetry, etc.