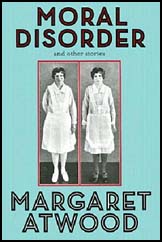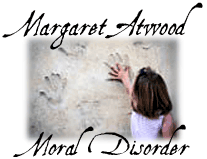 Moral Disorder


"In Moral Disorder, Margaret Atwood has created a series of interconnected stories that trace the course of a life and also the lives intertwined with it—those of parents, of siblings, of children, of friends, of enemies, of teachers, and even of animals. As in a photograph album, time is measured in sharp, clearly observed moments. The '30s, the '40s, the '50s, the '60s, the '70s, the '80s, the '90s, and the present— all are here. The settings vary: large cities, suburbs, farms, northern forests.

By turns funny, lyrical, incisive, tragic, earthy, shocking, and deeply personal, Moral Disorder displays Atwood's celebrated storytelling gifts and unmistakable style to their best advantage. As the New York Times has said: "The reader has the sense that Atwood has complete access to her people's emotional histories, complete understanding of their hearts and imaginations."


Short Stories in this Collection:
"The Bad News"
"The Art of Cooking and Serving"
"The Headless Horseman" — (Read Story)
"My Last Duchess"
"The Other Place"
"Monopoly"
"Moral Disorder"
"White Horse"
"The Entities"
"The Labrador Fiasco"
"The Boys at the Lab"

Excerpts from Moral Disorder
Excerpt: "The Headless Horseman" - RandomHouse.com
Excerpt - Canadian Living


Interviews, Re: Moral Disorder
Video Interview - Booklounge@YouTube


Book Reviews
The New York Times (A. Truax), 2006
The London Times, 2006
The Washington Post, 2006
The Boston Globe, 2006
The Guardian, 2006
The Observer, 2006
Miami Herals, 2006
Seattle Times, 2006
The Telegraph, 2006
The Evening Standard, 2006
The Post-Gazette, 2006
The Independent, 2006
The London Free Press, 2006
Time Out New York, 2006
New Statesman, 2006
Rocky Mountain News, 2006
The A.V. Club, 2006
Bookreporter.com, 2006

| | |
| --- | --- |
| | to Margaret Atwood's Short Stories |
| | to Margaret Atwood |



Luminarium Copyright ©1996-2007 Anniina Jokinen. All Rights Reserved.
Book cover images remain under the copyright of their respective copyright owners.
This page created on December 18, 2006 by Anniina Jokinen. Last updated January 3, 2007.

About this Website | Luminarium Privacy Statement.

Margaret Atwood has gone on to become not just
a major Canadian Writer, and a woman writer (whom some would call a Feminist Writer),
but an award-winning author of English literature. Her works include novels,
short stories, poetry, etc.