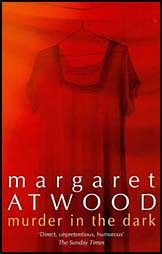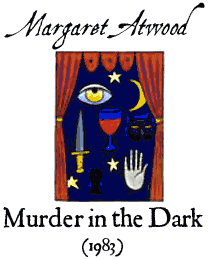 Murder in the Dark


"A leathery bog-man transforms an old love affair; a sweet, gruesome gift is sent by the wife of an ex-lover; landscape paintings are haunted by the ghost of a young girl. This dazzling collection of 10 short stories takes us into familiar Atwood territory to reveal the logic of irrational behaviour and the many textures lying beneath ordinary life. These short fictons and prose poems are bizarre: bread can no longer be conceived as wholesome comforting loaves and a poisonous brew is concocted by cynical five-year-olds. Intent on breaking the forces of convention, this collection should captivate the reader's imagination." —The Publisher.


Short Stories in this Collection:
"Autobiography"
"Raw Materials"
"Murder in the Dark" — (Read Story)
"Mute"
"Making Poison"
"Simmering"
"She"
"The Boys' Own Annual, 1911"
"Women's Novels"
"Worship"
"Before the War"
"Happy Endings" — (Summary; Read Story)
"Iconography"
"Horror Comics"
"Bread"
"Liking Men"
"Boyfriends"
"The Page"
"Strawberries"
"The Victory Burlesk"
"Him"
"Fainting"
"Hopeless"
"A Parable"
"Hand"
"Everlasting"
"Instructions for the Third Eye" — (Read Story)

Excerpts from Murder in the Dark
Excerpt: "Murder in the Dark" - Amazon.com
Excerpt: "Happy Endings" - IPFW
Excerpt: "Instructions for the Third Eye" - Tribe.net


Book Reviews
Reader Review - Dooyoo.co.uk
Eye Weekly, 1992


Essays on Murder in the Dark
Murder in the Dark: Margaret Atwood's Inverse Poetics of Intertextual Minuteness - R. M. Nischik


Atwood's Unhappy Endings - Erica Davis


Other
Student thoughts on "Bread" - UC Berkeley

| | |
| --- | --- |
| | to Margaret Atwood's Short Stories |
| | to Margaret Atwood |



Luminarium Copyright ©1996-2007 Anniina Jokinen. All Rights Reserved.
Book cover images remain under the copyright of their respective copyright owners.
This page created on December 18, 2006 by Anniina Jokinen. Last updated January 3, 2007.

About this Website | Luminarium Privacy Statement.

Margaret Atwood has gone on to become not just
a major Canadian Writer, and a woman writer (whom some would call a Feminist Writer),
but an award-winning author of English literature. Her works include novels,
short stories, poetry, etc.