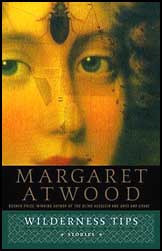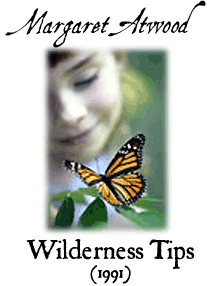 Wilderness Tips


"In each of these tales Margaret Atwood deftly illuminates the single instant that shapes a whole life: in a few brief pages we watch as characters progress from the vulnerabilities of adolescence through the passions of youth into the precarious complexities of middle age. By superimposing the past on the present, Atwood paints interior landscapes shaped by time, regret, and life's lost chances, endowing even the banal with a sense of mystery. Richly layered and disturbing, poignant at times and scathingly witty at others, the stories in Wilderness Tips take us into the strange and secret places of the heart and inform the familiar world in which we live with truths that cut to the bone." —The Publisher.


Short Stories in this Collection:
"True Trash" — (Excerpt)
"Hairball"
"Isis in Darkness"
"Uncles"
"Weight"
"The Bog Man"
"Wilderness Tips"
"Death by Landscape"
"Hack Wednesday"

Excerpts from Wilderness Tips
Excerpt, True Trash: "The waitresses are basking in the sun" - Amazon.com
Excerpt, The Age of Lead - Independent Online


Book Reviews
New York Times Review, 2000
New York Times Review, 2001
Entertainment Weekly, 2001
The Harvard Crimson Review, 2001


Essays on Wilderness Tips
Temporality and Margaret Atwood - Alice Ridout
Tall Cows and Tapestries: A Perspective on the English-Canadian Canon - Mark Levene


Other
DVD: "The Atwood Stories" - FilmWest

| | |
| --- | --- |
| | to Margaret Atwood's Short Stories |
| | to Margaret Atwood |



Luminarium Copyright ©1996-2007 Anniina Jokinen. All Rights Reserved.
Book cover images remain under the copyright of their respective copyright owners.
This page created on December 18, 2006 by Anniina Jokinen. Last updated January 3, 2007.

About this Website | Luminarium Privacy Statement.

Margaret Atwood has gone on to become not just
a major Canadian Writer, and a woman writer (whom some would call a Feminist Writer),
but an award-winning author of English literature. Her works include novels,
short stories, poetry, etc.