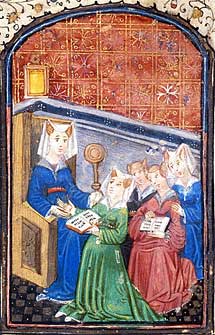 from A Ditty of Women's Horns

[HORNS AWAY!]



Clerkes record, by great authority,
Horns were given to beasts for defence;
A thing contrary to feminity,
To be made sturdy of resistance.
But arch wives, eager in their violence,
Fierce as tigers for to make affray,
They have despite, and act against conscience.
List not to pride, then horns cast away.


---

Traill, H. D. Social England. 4th Ed, vol II.
London: Cassell & Company, Ltd., 1902. 418.


---
| | |
| --- | --- |
| | to the Works of John Lydgate |



Site copyright ©1996-2010 Anniina Jokinen. All Rights Reserved.
Created by Anniina Jokinen on May 16, 2007. Last updated on April 16, 2010.







Middle English Literature
Geoffrey Chaucer
John Gower
Sir Gawain and the Green Knight
William Langland / Piers Plowman
Julian of Norwich
Margery Kempe
Thomas Malory / Morte D'Arthur
John Lydgate
Thomas Hoccleve
Paston Letters
Everyman
Medieval Plays
Middle English Lyrics
Essays and Articles

Intro to Middle English Drama


Sciences
Medieval Cosmology


Historical Events and Persons

Hundred Years' War (1337-1453)
Edward III
Edward, Black Prince of Wales
Lionel of Antwerp, Duke of Clarence
John of Gaunt, Duke of Lancaster
Edmund of Langley, Duke of York
Thomas of Woodstock, Gloucester
Richard of York, E. of Cambridge
Richard II
Henry IV
Edward, Duke of York
Henry V
Thomas, Duke of Clarence
John, Duke of Bedford
Humphrey, Duke of Gloucester
Catherine of Valois
Charles VII, King of France
Joan of Arc
Louis XI, King of France
Charles the Bold, Duke of Burgundy


The Wars of the Roses (1455-1485)
Causes of the Wars of the Roses
The House of Lancaster
The House of York
The House of Beaufort
The House of Neville

Henry VI
Margaret of Anjou

Richard Plantagenet, Duke of York
Edward IV
Elizabeth Woodville
Edward V
Richard III
George, Duke of Clarence



More at Encyclopedia and at
Additional Medieval Sources