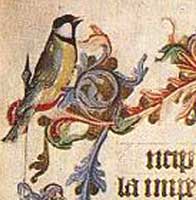 Bird On a Briar
[Camb. King's Coll. MS Muniment Roll 2 W. 32r]

Bryd one brere, brid, brid one brere,
Kynd is come of love, love to crave
Blythful biryd, on me thu rewe
Or greyth, lef, greith thu me my grave.

Hic am so blithe, so bryhit, brid on brere,
Quan I se that hende in halle:
Yhe is whit of lime, loveli, trewe
Yhe is fayr and flur of alle.

Mikte ic hire at wille haven,
Stedefast of love, loveli, trewe,
Of mi sorwe yhe may me saven
Ioye and blisse were were me newe.


Transl.

Bird on a briar, bird, bird on a briar,
(Man)kind is come of love, love thus craves.
Blissful bird, have pity on me,
Or dig, love, dig thou for me my grave.

I am so blithe, so bright, bird on briar,
When I see that handmaid in the hall:
She is white of limb, lovely, true,
She is fair and flower of all.

Might I her at my will have,
Steadfast of love, lovely, true,
From my sorrow she may me save
Joy and bliss would wear me new (i.e., me renew).

Notes:
On the face of it, this is a song of a man to a bird, begging for a sympathetic ear for a man hopelessly in love; on another level, bryd has the double meaning, of "burde", as in a young woman — when this would be sung in the hall, she might recognize herself and take pity. The third level is "Brid" as St. Bride, or St. Brighid, the fair one. In any case, the song is among the first (extant) English love lyrics.
---
Sheet Music and Notes - Constance Fairfax


---
| | |
| --- | --- |
| | to Middle English Lyrics |
| | to Luminarium Main |
| | to Middle English Literature |




Site copyright ©1996-2018 Anniina Jokinen. All Rights Reserved.
Created by Anniina Jokinen on November 26, 2006. Last updated on November 12, 2018.





Middle English Literature
Geoffrey Chaucer
John Gower
Sir Gawain and the Green Knight
William Langland / Piers Plowman
Julian of Norwich
Margery Kempe
Thomas Malory / Morte D'Arthur
John Lydgate
Thomas Hoccleve
Paston Letters
Everyman
Medieval Plays
Middle English Lyrics
Essays and Articles


Sciences
Medieval Cosmology


Historical Events and Persons

Hundred Years' War (1337-1453)
Edward III
Edward, Black Prince of Wales
Lionel of Antwerp, Duke of Clarence
John of Gaunt, Duke of Lancaster
Edmund of Langley, Duke of York
Thomas of Woodstock, Gloucester
Richard of York, E. of Cambridge
Richard II
Henry IV
Edward, Duke of York
Henry V
Thomas, Duke of Clarence
John, Duke of Bedford
Humphrey, Duke of Gloucester
Catherine of Valois
Charles VII, King of France
Joan of Arc
Louis XI, King of France
Charles the Bold, Duke of Burgundy


The Wars of the Roses (1455-1485)
Causes of the Wars of the Roses
The House of Lancaster
The House of York
The House of Beaufort
The House of Neville

Henry VI
Margaret of Anjou

Richard Plantagenet, Duke of York
Edward IV
Elizabeth Woodville
Edward V
Richard III
George, Duke of Clarence



More at Encyclopedia and at
Additional Medieval Sources