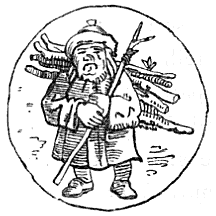 Mon in the Mone

[MS. Harl. 2253. ff. 114-5]

Mon in the mone stond and strit;
On his botforke his burthen he bereth.
It is muche wonder that he na doun slyt;
For doute leste he valle he shoddreth ant shereth.
When the forst freseth muche chele he byd.
The thornes beth kene, his hattren to tereth.
Nis no wyght in the world that wot wen he syt,
Ne bote it be the hegge, whet wedes he wereth.
Whider trowe this mon ha the wey take?
He hath set his o fot his other toforen,
For non highte that he hath ne syght me hym ner shake;
He is the sloweste mon that euer wes yboren.


Man in the Moon

Trans. A. Jokinen

Man in the moon stands and strides;
On his boatfork* his burden he beareth.
It is a great wonder that he down does not slide;
For fear, lest he fall, he shuddereth and veereth.
When the frost freezeth, much chill he bides.
There's no-one in the world who knows when he sits,
Unless it be the hedge, what clothes he weareth.
Whither, think you, hath this man gone?
He hath set one foot in front of the other,
In any height he's reached, I have never seen him shaken;
He is the slowest man that ever was born.






* A boatman's forked stick, now called a pike pole.



---
| | |
| --- | --- |
| | to Middle English Lyrics |
| | to Luminarium Main |
| | to Middle English Literature |




Site copyright ©1996-2009 Anniina Jokinen. All Rights Reserved.
This page created by Anniina Jokinen on July 3, 2009.





Middle English Literature
Geoffrey Chaucer
John Gower
Sir Gawain and the Green Knight
William Langland / Piers Plowman
Julian of Norwich
Margery Kempe
Thomas Malory / Morte D'Arthur
John Lydgate
Thomas Hoccleve
Paston Letters
Everyman
Medieval Plays
Middle English Lyrics
Essays and Articles


Sciences
Medieval Cosmology


Historical Events and Persons

Hundred Years' War (1337-1453)
Edward III
Edward, Black Prince of Wales
Lionel of Antwerp, Duke of Clarence
John of Gaunt, Duke of Lancaster
Edmund of Langley, Duke of York
Thomas of Woodstock, Gloucester
Richard of York, E. of Cambridge
Richard II
Henry IV
Edward, Duke of York
Henry V
Thomas, Duke of Clarence
John, Duke of Bedford
Humphrey, Duke of Gloucester
Catherine of Valois
Charles VII, King of France
Joan of Arc
Louis XI, King of France
Charles the Bold, Duke of Burgundy


The Wars of the Roses (1455-1485)
Causes of the Wars of the Roses
The House of Lancaster
The House of York
The House of Beaufort
The House of Neville

Henry VI
Margaret of Anjou

Richard Plantagenet, Duke of York
Edward IV
Elizabeth Woodville
Edward V
Richard III
George, Duke of Clarence



More at Encyclopedia and at
Additional Medieval Sources