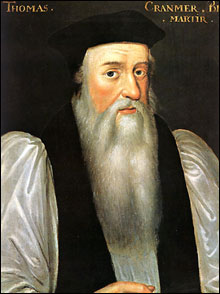 Letter of Archbishop Cranmer to Thomas Cromwell.

April 17, 1534.

Cott. MS. Cleop. E. VI. fol. 181.


| | | |
| --- | --- | --- |
| | This letter was written shortly after Parliament passed the first Act of Succession. The clergy, the nobility and government officials were all required to swear an oath to the same, but Sir Thomas More and John Fisher, Bishop of Rochester refused. Cranmer writes here to Cromwell to see if they might be allowed to swear just to the legitimacy of the succession, not requiring them to swear to the preamble, which included declaring Henry VIII's first marriage illegitimate and the disavowing of the Pope's power over the English Church. | |



Right Worshipful Master Crumwell, after most hearty commendations, &c. I doubt not but you do right well remember, that my Lord of Rochester and Master More were contented to be sworn to the Act of the King's succession, but not to the preamble of the same.1 What was the cause of their refusal thereof I am uncertain, and they would by no means express the same. Nevertheless it must needs be, either the diminution of the authority of the Bishop of Rome,2 or else the reprobation of the King's first pretensed matrimony.3 But if they do obstinately persist in their opinions of the preamble, yet meseemeth it should not be refused, if they will be sworn to the very Act of succession: so that they will be sworn to maintain the same against all powers and potentates. For hereby shall be a great occasion to satisfy the Princess Dowager and the Lady Mary, which do think they should damn their souls, if they should abandon and relinquish their estates. And not only it should stop the mouths of them, but also of the Emperor, and other their friends, if they give as much credence to my Lord of Rochester and Master More, speaking and doing against them, as they hitherto have done and thought that all other should have done, when they spake and did with them. And peradventure it should be a good quietation to many other within this realm, if such men should say, that the succession, comprised within the said Act, is good and according to God's laws. For then I think there is not one within this realm, that would once reclaim against it. And whereas divers persons, either of a wilfulness will not, or of an indurate and invertible conscience cannot alter from their opinions of the King's first pretensed marriage, (wherein they have once said their minds, and percase have a persuasion in their heads, that if they should now vary therefrom, their fame and estimation were distained for ever,) or else of the authority of the Bishop of Rome: yet if all the realm with one accord would apprehend the said succession, in my judgment it is a thing to be amplected and embraced. Which thing, although I trust surely in God that it shall be brought to pass, yet hereunto might not a little avail the consent and oaths of these two persons, the Bishop of Rochester and Master More, with their adherents, or rather confederates. And if the King's pleasure so were, their said oaths might be suppressed, but when and where his Highness might take some commodity by the publishing of the same. Thus our Lord have you ever in his conservation. From my manor at Croydon, the xvii. day of April.

Your own assured ever,
Thomas Cantuar.4



[AJ NOTES:

For the full treatment, see excerpt from Burnet, More and Fisher Refuse the Oath of Succession.

i.e., the pope.

Henry VIII's first marriage, to Catherine of Aragon.

Thomas Cantuariensis, i.e., Thomas of Canterbury.]

---


The Remains of Thomas Cranmer. Vol I. Rev. Henry Jenkyns, Ed.
Oxford: Oxford University Press, 1833. 101-102.


---
| | |
| --- | --- |
| | to Works of Thomas Cranmer |
| | to Sir Thomas More |
| | to John Fisher, Bishop of Rochester |
| | to Thomas Cromwell |
| | to Luminarium Encyclopedia |




Site copyright ©1996-2009 Anniina Jokinen. All Rights Reserved.
Created by Anniina Jokinen on July 1, 2009.






The Tudors

King Henry VII
Elizabeth of York

King Henry VIII
Queen Catherine of Aragon
Queen Anne Boleyn
Queen Jane Seymour
Queen Anne of Cleves
Queen Catherine Howard
Queen Katherine Parr

King Edward VI
Queen Mary I
Queen Elizabeth I
Henry Fitzroy, Duke of Richmond

Renaissance English Writers
Bishop John Fisher
William Tyndale
Sir Thomas More
John Heywood
Thomas Sackville
Nicholas Udall
John Skelton
Sir Thomas Wyatt
Henry Howard
Hugh Latimer
Thomas Cranmer
Roger Ascham
Sir Thomas Hoby
John Foxe
George Gascoigne
John Lyly
Thomas Nashe
Sir Philip Sidney
Edmund Spenser
Richard Hooker
Robert Southwell
Robert Greene
George Peele
Thomas Kyd
Edward de Vere
Christopher Marlowe
Anthony Munday
Sir Walter Ralegh
Thomas Hariot
Thomas Campion
Mary Sidney Herbert
Sir John Davies
Samuel Daniel
Michael Drayton
Fulke Greville
Emilia Lanyer
William Shakespeare


Persons of Interest
Cardinal Thomas Wolsey
Archbishop Thomas Cranmer
Thomas Cromwell
John Fisher, Bishop of Rochester
Cardinal Lorenzo Campeggio
Cardinal Reginald Pole
Stephen Gardiner, Bishop of Winchester
William Tyndale
Pico della Mirandola
Desiderius Erasmus
Christopher Saint-German
Thomas Linacre
William Grocyn
Hugh Latimer
Elizabeth Barton, the Nun of Kent
For more, visit Encyclopedia


Historical Events
Field of the Cloth of Gold, 1520
Pilgrimage of Grace, 1536
The Babington Plot, 1586
The Spanish Armada, 1588


Government
Oath of Supremacy
The Act of Supremacy, 1534
The First Act of Succession, 1534
The Third Act of Succession, 1544
The Ten Articles, 1536
The Six Articles, 1539
The Second Statute of Repeal, 1555


Images of London:
London in the time of Henry VII. MS. Roy. 16 F. ii.
London, 1510, earliest view in print
Map of England from Saxton's Descriptio Angliae, 1579
Location Map of Elizabethan London
Plan of the Bankside, Southwark, in Shakespeare's time
Detail of Norden's Map of the Bankside, 1593
Bull and Bear Baiting Rings from the Agas Map (1569-1590, pub. 1631)
Sketch of the Swan Theatre, c. 1596
Westminster in the Seventeenth Century, by Hollar
Visscher's Panoramic View of London, 1616. COLOR



For more, visit Encyclopedia