THOMAS, CARDINAL WOLSEY was born in Ipswich, Suffolk, possibly in 1473. His father Robert Wulcy was a butcher, innkeeper, and cattle dealer. Wolsey studied at Magdalen College, Oxford, taking his B.A. in 1488, and an M.A. in 1491. On March 10, 1498 he was ordained priest, and in October, 1500 presented the rectory of Limington in Somerset by the Marquess of Dorset. It is not clear that Wolsey was ever resident there, being master and Dean of Divinity at Magdalen College School 1500-01. Wolsey became chaplain to Henry Dean, the Archbishop of Canterbury in 1501, until the Archbishop's death in 1503. For the next four years Wolsey served as chaplain to Sir Richard Nanfan, governor of Calais, who introduced Wolsey to Henry VII. Upon Nanfan's death in 1507, Wolsey was appointed chaplain to Henry VII. The King employed Wolsey in administrative and diplomatic duties, including journeys to Flanders and Scotland.

In February 1509, Wolsey was appointed Dean of Lincoln and appointed Royal Almoner upon Henry VIII's accession to the throne after his father's death. In 1510 Wolsey, well-favored by the young King, was appointed Registrar of the Order of the Garter and allowed to supplicate for the degrees of B.D. and D.D. Young King Henry, preferring the sports of lovemaking and hunting to politics, entrusted increasingly more power to Wolsey and followed his counsel on matters of state.

In 1511 Wolsey convinced Henry, who openly harbored anti-French sentiments, to join Pope Julius II, King Ferdinand II of Aragón (Henry's father-in-law), Holy Roman Emperor Maximilian I, the Swiss cantons, and the Venetians in the Holy League against France. In November 1511, Henry and Ferdinand signed the Treaty of Westminster, pledging mutual help against France, their common enemy. Henry sent Lord Dorset with an army to France in 1512, but the campaign "ended in inglorious failure".1 The Queen and Wolsey successfully persuaded the King to mount a second offensive in 1513, led by himself. Henry's presence in France was unwelcome to Maximilian and Ferdinand when they realized he intended to depose Louis XII and crown himself King of France. They made a secret treaty with Louis XII to let the Henry win a few minor battles before the winter and his troops' return to England. Wolsey encouraged Henry to attack Boulogne, to strengthen the area around Calais, and Holy Roman Emperor Maximilian enticed Henry to attack Tournai. On 16 August, 1513 the English army won over the French at Thérouanne, in what came to be known as the Battle of the Spurs.

While Wolsey was in France with the King, he received news from the Queen that the Scots were planning an invasion to England, led by King James IV, Henry's brother-in-law. On 9 September 1513, the English force, led by the Earl of Surrey, was victorious over the Scots at the battle of Flodden. It was one of the bloodiest confrontations ever in Britain, resulting in over ten thousand dead, among them James IV of Scotland. As winter was approaching, Henry and the troops returned to England. The allies agreed on a combined invasion of France in 1514 and on Henry's sister Mary Tudor's marriage to Charles of Castile in the spring. The Holy League, however, fell apart at Pope Julius II's death in 1513.

Wolsey was becoming the real power behind the throne, without ever letting the King guess who was truly running the country. In February 1513 he had been made Dean of York and Henry had bestowed many favors upon him. The Queen, however, was falling from favor, for Henry had realized that Maximilian and Ferdinand had fooled him and had no intention of pursuing a further war with France. The Council of Flanders also refused to accept Princess Mary's intended wedding to Archduke Charles, and the King was gravely insulted. The Queen, Catherine of Aragón, bore the brunt of the King's displeasure, for she had often advised Henry to listen to Ferdinand, his father-in-law. Wolsey councelled Henry to form an alliance with France, the peace was signed in August 1514, and Louis XII agreed to increase the pension the French were paying in reparations. In October of the same year, Henry wed his sister Mary Tudor to the King of France. This marriage did not please the Queen who saw Wolsey's growing influence and knew it to be detrimental to her interests, and Spain's. Wolsey was indeed gaining momentum, having been appointed Bishop of Lincoln in 1514 and Archbishop of York in September of the same year. Unfortunately, Louis XII died only three months after the wedding, in early 1515.

In 1514, a curious legal case of one Richard Hume led to what would constitute Wolsey's first mistake with the King. Richard Hume was a London merchant who had lost his infant son. When he had gone to the priest for burial, the priest had asked in payment of the mortuary fees the dead child's christening robe. Outraged, Hume had refused. The priest sued Hume in the ecclesiastical court, and Hume countersued, having the priest indicted in the Court of King's Bench for praemunire. While these proceedings were taking place, Hume was caught sheltering a heretic. Soon after, Hume was found hung in his cell. A coroner's jury was called, and it decided that he had been murdered. The bishop's chancellor was indicated for the crime. The Criminous Clerks Act which stated that hangers-on to clergy should be tried in the King's Court, instead of church courts, had expired; when the Parliament met in 1515 to pass it again, the House of Lords, filled with members of the clergy, refused to pass it. The Church Convocation issued a statement saying: "No clergy should be tried in the King's Court." The House of Commons appealed to the King and had a conference with him at Blackfriars. A Doctor of Divinity, one Henry Standish, argued the case against the abbot. The Church, in retaliation, accused Standish of heresy, forcing Standish to appeal to the King. The Common Law judges at Blackfriars ruled for Standish and against convocation, claiming praemunire. At the Parliament meeting, with the King present, Wolsey apologized for the clergy, getting down on his knees and begging that the case be sent to Rome. Henry VIII refused, stating that no-one had a right to rule over his decision but God himself.

Wolsey was forgiven for this infraction and enjoyed further success. In September 1515, he was appointed Cardinal by the Pope, and on Christmas Eve, 1515, named Lord Chancellor by the King. He now enjoyed not only a high Church position, but also the highest secular position.

In France, Louis XII had been succeeded by the young and dashing Francis I, and a rivalry soon developed between the two young monarchs. When the French conquered Milan at the battle of Marignano in 1515, Wolsey began again to favor an allegiance with Maximilian and Ferdinand. The situation changed abrubtly when Ferdinand died in 1516. Ferdinand was succeeded by his sixteen year-old grandson, Charles V, son of mad Juana of Aragón and Philip of Burgundy, son of Maximilian, the Holy Roman Emperor. Charles held not only Spain, but also the Indies, Sicily, Naples, and the Netherlands. It was advantageous to both Francis and Charles to form an allegiance with England, and Wolsey seized the chance. In 1518 he successfully negotiated the Treaty of London between Charles V, Maximilian I, Francis I, and Henry VIII. In May of 1518, Wolsey was named legatus a latere by the Pope—he was now the most powerful church official in England. In July of 1518 he was also appointed Bishop of Bath and Wells, which brought him additional revenue.

The peaceful relations were short-lived, however, because in 1519 Maximilian died, resulting in all three young kings coveting the position of Holy Roman Emperor. Charles V, grandson to both Maximilian and Ferdinand was the natural choice, but both Francis and Henry campaigned heavily for the title, bribing the Electors. At the age of nineteen, Charles V became the Holy Roman Emperor, now ruling Germany, Austria, the Low Countries, parts of Italy, as well as Spain. When in 1526 Hungary also came under his power he ruled half of Europe. Wolsey saw the opportunity of benefiting from the ancient rivalry between the houses of Hapsburg (Charles) and Valois (Francis) and began negotiations with both.

In February 1520, Wolsey agreed that the English would meet Francis in May at Henry's castle in Guisnes in Calais. The Cardinal was in charge of the arrangements for this meeting which was to become "one of the most expensive charades ever staged in history, the Field of Cloth of Gold."2 Charles V, also avid to court English friendship, arrived for a state visit in May 1520. This was the first time the Queen met her nephew. Charles wanted to persuade Henry not to meet with Francis, but Henry explained he must and arranged to meet with Charles in Flanders afterwards. The Field of Cloth of Gold took place on 7 June, 1520, and continued for three weeks of festivities, each monarch trying to outdo the other in splendor. Henry and Francis signed a treaty of friendship, but as the Venetian embassador noted, "these sovereigns are not at peace. They hate each other cordially."3 In July, the English court hosted a banquet for Charles V in Calais, and Francis was furious.

On July 14, 1520, Henry signed a treaty with Charles in which both parties agreed not to make any new alliances with France for the next two years. Wolsey arranged the breaking of Princess Mary's betrothal to the French Dauphin, and in the spring of 1521 Charles proposed to marry her, to the great happiness of the Queen. In November, Wolsey was granted the abbacy of St. Albans. When Pope Leo X died in 1521, Wolsey expected Charles to influence the vote for the papacy in Wolsey's favor. Instead, Charles had the Cardinals elect his old tutor, Adrian. Wolsey was frustrated. In May 1522, Charles arrived in England for the betrothal ceremony, and three days later England declared war on France. It was decided that England would go to war with France in 1523. Charles left England and also declared war on France.

In 1523, Henry asked parliament for a grant of £800,000 to go to war with France. The House of Commons refused, and Sir Thomas More, who was Speaker at that time, agreed that Commons would give one subsidy of £100,000 a year for the next four years. This was not enough for the war, and Henry had to wait. Charles V saw this as England renegging on its promise, and was livid. The relations between Charles and Wolsey (who was still, in effect, in control of the government) further deteriorated when Pope Adrian VI died in 1523, and Wolsey's ambitions to be elected Pope were again thwarted. Charles had the Cardinals elect Clement VII, the Medici. By now Wolsey knew himself deceived. On the election of Pope Clement, Wolsey wrote: "For my part, as I take God to record, I am more joyous thereof than if it had fortuned upon my person."4 The new Pope gave Wolsey the bishopric of Durham in exchange for Bath and Wells, and Wolsey still held the Archbishopric of York.

In February 1525, Charles was victorious at the Battle of Pavia, in Italy, where King Francis was taken prisoner. Henry wanted to take advantage of France's downfall and wage war again. Finances were still an issue, so Wolsey tried to force an "Amicable Loan" from the nobility. This caused so much outrage with the nobility who already resented Wolsey's power, that Henry had to step in and apologize for Wolsey. This was the second strike.

Charles V was now a danger to all of Europe, and Wolsey began to make overtures towards France again. When Charles announced, in August, 1525, that he considered his betrothal to Princess Mary null and void (for he had found a richer bride, Isabella of Portugal), Henry released him from the betrothal and signed a new treaty with France. In the summer of 1526, Francis offered himself husband for Princess Mary. Both Wolsey and Henry were enthusiastic. The marriage treaty, for either Francis or his second son to marry Mary, was sealed in May 1527. Francis himself soon became engaged to Eleanor, the sister of Charles V, and thus Henry, Duke of Orléans, became Mary's betrothed.

The celebration was short-lived. On May 6, 1527, the Emperor's disgruntled troops sacked the city of Rome, and forced the Pope to take refuge in Castel Santangelo—Charles V now held the Pope in his power. With the new cementing of ties with France, Henry felt he no longer needed the goodwill of Spain. Thus, it did not matter if he angered the Emperor by casting aside his aunt, Katherine of Aragón, Queen of England. The King was eager to rid himself of a Spanish queen who had entered menopause and would never bear him a male heir, but most of all, he was eager to remarry. Anne Boleyn, and the King's 'great matter', would prove to be Wolsey's final downfall.

The King turned to Wolsey for help in getting an annulment of his first marriage. Wolsey pleaded with the King to avoid such action, but the King was adamant. Henry claimed having long had doubts of the validity of his marriage to his dead brother's widow, citing a biblical passage (from Leviticus 20) which condemns such a marriage as unclean, and which God will render childless. As papal legate, Wolsey convened a secret ecclesiastical court for 17 May 1527, and the King testified having doubts and asking for judgment. The court reconvened twice more, and on 31 May declared they were not qualified to judge such a difficult case.

The Privy Council recommended the King apply to the Pope for a decision on the annulment. Wolsey suggested that he be sent to France to convince King Francis to use his influence to persuade the Pope to extend Wolsey's authority, in order that Wolsey could judge on the case. He left for France in July. While Wolsey was out of the country, the Boleyn faction worked hard to undermine the Cardinal's authority with the King, claiming that Wolsey was actually hard at work preventing an annulment. By the time Wolsey returned from France in September, having failed to secure the support of Francis, the King was already doubting his loyalty.

Unfortunately, the Pope was now as good as prisoner to the Holy Roman Emperor, Charles V, the Queen's nephew. The Queen kept sending missives to further her own suit, which of course was not to have the marriage annulled and her daughter declared a bastard. Charles V told Pope Clement VII he was 'determined to preserve the Queen's rights' and forbad him to annul the marriage or to let the case be tried in England.5 Thus, when Wolsey's and Henry's respective ambassadors visited with him, Clement cordially refused to grant a dispensation for an annulment. Wolsey, who was aware of the King's growing displeasure and distrust with him, was doing everything in his power to get Clement to reconsider. In one letter, he wrote, "If the Pope is not compliant, my own life will be shortened, and I dread to anticipate the consequences."6

In January 1528, England and France declared war on the Emperor. Henry sent to Rome Edward Fox, doctor of divinity, and Stephen Gardiner, doctor of both civil and church law, to influence the Pope to grant Wolsey the power to rule on Henry's case. Eventually, in April, Clement agreed to send to England a Cardinal Campeggio, to try the case with Wolsey, but refused to grant either the power to pronounce sentence. It was a start, yet it was not enough. The King was getting impatient. What further aggravated the situation was an outbreak of the sweating sickness in June—Anne was sent away from London, and the plague. Wolsey, taking this as a sign of God's wrath at the proceedings, wrote to Henry to ask him to drop the annulment suit. Henry, outraged, is said to have exclaimed he would have given "a thousand Wolseys for one Anne Boleyn."7 The end to Wolsey's years in favor was near.

Cardinal Campeggio arrived in England at the end of September 1528. The proceedings began on 22 October, with Campeggio angering the King by suggesting he reconcile with the Queen. To appease the King, Campeggio showed the King a decretal bull authorizing him to adjudicate on the case. The King kept pushing Wolsey to get the bull from Campeggio, but Wolsey was unsuccessful. To make matters worse, Anne Boleyn kept maligning Wolsey to Henry, working hard to convince him that Wolsey was not sincerely trying to advance the annulment. Despite Wolsey's protests to the contrary, the King would not believe him, forcing Wolsey to plead with Francis I to urge the Pope to grant the divorce. Due to the Pope's illness in early 1529, the court did not convene until 20 May 1529. In the meantime, Wolsey had done his utmost to get the decretal bull from Campeggio, but finally in June he told Wolsey that the Pope had forbidden its use. In July, Clement, due to pressure from Charles V, revoked the commission to Campeggio and Wolsey, and the legatine court formally closed. Anne was livid, and blamed Wolsey.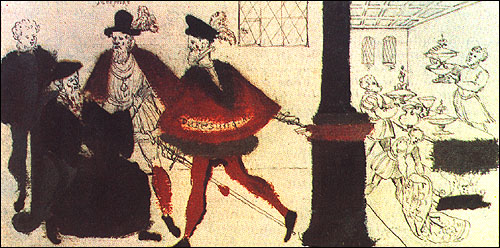 Cardinal Wolsey surrendering the Great Seal (1529)
From Cavendish's Life of Wolsey Roll 214.5.
The Bodleian Library, Oxford.

In October 1529, Wolsey was officially stripped of the office of Lord Chancellor, and was required to return the Great Seal. Desperately trying to avoid indictment, Wolsey gave the King most of his property, including York Place, himself retiring to a modest house in Esher, Surrey. York Place was to be renovated, renamed Whitehall, and given to Anne Boleyn. In November Wolsey begged the King for mercy, and Henry, placated, placed Wolsey under his personal protection. Just after Christmas, Wolsey fell ill and was thought to be dying. The King sent him a message saying he "would not lose him for £20,000",8 and the Cardinal's health improved.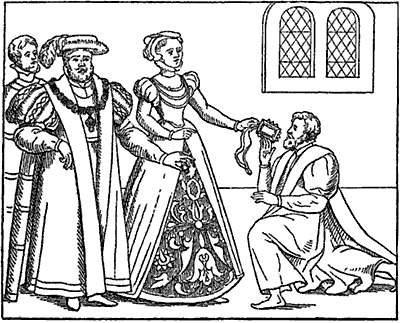 Henry VIII and Anne Boleyn, sending tokens of goodwill
to the sick Cardinal.
From a contemporary drawing.

Anne was not finished with Wolsey, however. She was furious when, 12 February, 1530, the King pardoned Wolsey formally and confirmed his Archbishopric of York. Anne began in earnest to cry for Wolsey's blood. Wolsey had never privately supported the King's wish to obtain an annulment. Realising that his only road back to power would be if the Queen were retained and Anne disposed with, Wolsey wrote to the Pope to have the matter solved with more speed.

Anne was not waiting idly. She had Wolsey's physician bribed into falsely accusing Wolsey of urging the Pope to excommunicate Henry, and to seize the English throne himself. Wolsey had also written to Francis and Charles to ask them to intercede with the King on his behalf, and this also was used against him as evidence of treachery. The Cardinal was arrested on a charge of high treason in November. Travelling from Cawood, Yorkshire, to the Tower of London proved too much for Wolsey who fell ill on the way and died at Leicester Abbey. He is said to have said on his deathbed, "If I had served God as diligently as I have done the King, he would not have given me over in my grey hairs."9




1 Weir, Alison. The Six Wives of Henry VIII.
New York: Ballantine Books, 1993. 114.
2 Ibid. 129.
3 Ibid. 130.
4 The Catholic Encyclopedia
5 Weir, 183.
6 Ibid. 184.
7 Ibid. 186.
8 Ibid. 217.
9 Ibid. 218.





---

Article Citation:

Jokinen, Anniina. "Cardinal Thomas Wolsey." Luminarium.
8 May 2007. [Date when you accessed the page].
<http://www.luminarium.org/encyclopedia/wolseybio.htm>


---
Other Local Resources:
---


Books for further study:

Brewer, John S. Reign of Henry Eighth from His Accession to the Death of Wolsey.
James Gairdner, Ed. London: 1884. (Repr. New York, AMS Press, 1984).

Cavendish, George. The Life of Cardinal Wolsey, 1641. Several times reprinted.
Also at «http://www.library.utoronto.ca/utel/ret/cavendish/cavendish.html»

Creighton, Mandell. Cardinal Wolsey. London, 1888.


Ferguson, Charles Wright. Naked to Mine Enemies : The Life of Cardinal Wolsey.
Boston: Little Brown and Co, 1958. (repr. 1965, 1998).

Gunn, S.J. and P.G. Lindley, eds. Cardinal Wolsey : Church, State and Art.
New York: Cambridge University Press, 1991.

Pollard, A. F. Wolsey.
New York: Longmans, Green and Co., 1929. (repr. 1966)

Wilson, Derek. In the Lion's Court: Power, Ambition, and Sudden Death
in the Reign of Henry VIII.
New York: St. Martin's Press, 2001.



---
Wolsey on the Web:
---
| | |
| --- | --- |
| | to Henry VIII |
| | to Renaissance English Literature |
| | to Luminarium Encyclopedia |




Index of Encyclopedia Entries:

Medieval Cosmology
Prices of Items in Medieval England

Edward II
Edmund of Woodstock, Earl of Kent
Thomas, Earl of Lancaster
Henry, Earl of Lancaster
Roger Mortimer, Earl of March
Piers Gaveston

Hundred Years' War (1337-1453)

Edward III
Queen Philippa
The Battle of Crécy, 1346
The Siege of Calais, 1346-7
The Battle of Poitiers, 1356
The Battle of La Rochelle, 1372
Edward, Black Prince of Wales
Joan of Kent, Princess of Wales
Lionel of Antwerp, Duke of Clarence
Henry of Grosmont, Duke of Lancaster
John of Gaunt, Duke of Lancaster
Edmund of Langley, Duke of York
Thomas of Woodstock, Gloucester
Robert de Ufford, 1. Earl of Suffolk
William de Ufford, 2. Earl of Suffolk
William Montacute, E. of Salisbury
William Montacute, 2. E. of Salisbury
Thomas Holland, Earl of Kent
John de Vere, Earl of Oxford
Richard Fitzalan, 3. Earl of Arundel
William de Bohun, Earl of Northampton
Laurence Hastings, 1. Earl of Pembroke
John Hastings, 2. Earl of Pembroke
Ralph de Stafford, Earl of Stafford
Roger Mortimer, 2. Earl of March
Sir John Chandos
Sir Walter Manny
The Good Parliament, 1376
Richard II
Peasants' Revolt, 1381
Lords Appellant, 1388
Richard Fitzalan, 4. Earl of Arundel
Archbishop Thomas Arundel
Thomas de Beauchamp, E. Warwick
John Montacute, 3. E. of Salisbury
Robert de Vere, Earl of Oxford
Ralph Neville, E. of Westmorland
Thomas Mowbray, Duke of Norfolk
Edmund Mortimer, 3. Earl of March
Roger Mortimer, 4. Earl of March
John Holland, Duke of Exeter
Thomas Holland, 2. Duke of Kent
Michael de la Pole, E. Suffolk
Hugh de Stafford, 2. E. Stafford
Wat Tyler
Henry IV
Edward, Duke of York
Edmund Mortimer, 5. Earl of March
Henry Percy, Earl of Northumberland
Sir Henry Percy, "Harry Hotspur"
Thomas Percy, Earl of Worcester
Owen Glendower
The Battle of Shrewsbury, 1403
Archbishop Richard le Scrope
Thomas Mowbray, 3. E. Nottingham
John Mowbray, 2. Duke of Norfolk
Thomas Fitzalan, 5. Earl of Arundel
Henry V
Catherine of Valois
Thomas, Duke of Clarence
John, Duke of Bedford
Humphrey, Duke of Gloucester
John Talbot, Earl of Shrewsbury
Richard, Earl of Cambridge
Henry, Baron Scrope of Masham
William de la Pole, Duke of Suffolk
Thomas Montacute, E. Salisbury
Richard Beauchamp, E. of Warwick
Henry Beauchamp, Duke of Warwick
Thomas Beaufort, Duke of Exeter
Cardinal Henry Beaufort
John Beaufort, Earl of Somerset
Sir John Fastolf
John Holland, 2. Duke of Exeter
Archbishop John Stafford
Archbishop John Kemp
Owen Tudor
John Fitzalan, 7. Earl of Arundel
John, Lord Tiptoft

Charles VII, King of France
Joan of Arc
Louis XI, King of France
Charles the Bold, Duke of Burgundy
The Battle of Castillon, 1453



The Wars of the Roses 1455-1485
Causes of the Wars of the Roses
The House of Lancaster
The House of York
The House of Beaufort
The House of Neville

The First Battle of St. Albans, 1455
The Battle of Blore Heath, 1459
The Rout of Ludford, 1459
The Battle of Northampton, 1460
The Battle of Wakefield, 1460
The Battle of Mortimer's Cross, 1461
The 2nd Battle of St. Albans, 1461
The Battle of Towton, 1461
The Battle of Hedgeley Moor, 1464
The Battle of Hexham, 1464
The Battle of Edgecote, 1469
The Battle of Losecoat Field, 1470
The Battle of Barnet, 1471
The Battle of Tewkesbury, 1471
The Treaty of Pecquigny, 1475
The Battle of Bosworth Field, 1485
The Battle of Stoke Field, 1487

Henry VI
Margaret of Anjou
Richard Plantagenet, Duke of York
Edward IV
Elizabeth Woodville
Richard Woodville, 1. Earl Rivers
Anthony Woodville, 2. Earl Rivers
Jane Shore
Edward V
Richard III
George, Duke of Clarence

Ralph Neville, 2. Earl of Westmorland
Richard Neville, Earl of Salisbury
Richard Neville, Earl of Warwick
Edward Neville, Baron Bergavenny
William Neville, Lord Fauconberg
Robert Neville, Bishop of Salisbury
John Neville, Marquis of Montagu
George Neville, Archbishop of York
John Beaufort, 1. Duke Somerset
Edmund Beaufort, 2. Duke Somerset
Henry Beaufort, 3. Duke of Somerset
Edmund Beaufort, 4. Duke Somerset
Margaret Beaufort
Edmund Tudor, Earl of Richmond
Jasper Tudor, Earl of Pembroke
Humphrey Stafford, D. Buckingham
Henry Stafford, Duke of Buckingham
Humphrey Stafford, E. of Devon
Thomas, Lord Stanley, Earl of Derby
Sir William Stanley
Archbishop Thomas Bourchier
Henry Bourchier, Earl of Essex
John Mowbray, 3. Duke of Norfolk
John Mowbray, 4. Duke of Norfolk
John Howard, Duke of Norfolk
Henry Percy, 2. E. Northumberland
Henry Percy, 3. E. Northumberland
Henry Percy, 4. E. Northumberland
William, Lord Hastings
Henry Holland, Duke of Exeter
William Fitzalan, Earl of Arundel
William Herbert, 1. Earl of Pembroke
John de Vere, 12th Earl of Oxford
John de Vere, 13th Earl of Oxford
Thomas de Clifford, 8. Baron Clifford
John de Clifford, 9. Baron Clifford
John Tiptoft, Earl of Worcester
Thomas Grey, 1. Marquis Dorset
Sir Andrew Trollop
Archbishop John Morton
Edward Plantagenet, E. of Warwick
John Talbot, 2. E. Shrewsbury
John Talbot, 3. E. Shrewsbury
John de la Pole, 2. Duke of Suffolk
John de la Pole, E. of Lincoln
Edmund de la Pole, E. of Suffolk
Richard de la Pole
John Sutton, Baron Dudley
James Butler, 5. Earl of Ormonde
Sir James Tyrell
Edmund Grey, first Earl of Kent
George Grey, 2nd Earl of Kent
John, 5th Baron Scrope of Bolton
James Touchet, 7th Baron Audley
Walter Blount, Lord Mountjoy
Robert Hungerford, Lord Moleyns
Thomas, Lord Scales
John, Lord Lovel and Holand
Francis Lovell, Viscount Lovell
Sir Richard Ratcliffe
William Catesby
Ralph, 4th Lord Cromwell
Jack Cade's Rebellion, 1450


Tudor Period

King Henry VII
Queen Elizabeth of York
Arthur, Prince of Wales
Lambert Simnel
Perkin Warbeck
The Battle of Blackheath, 1497

King Ferdinand II of Aragon
Queen Isabella of Castile
Maximilian I, Holy Roman Emperor

King Henry VIII
Queen Catherine of Aragon
Queen Anne Boleyn
Queen Jane Seymour
Queen Anne of Cleves
Queen Catherine Howard
Queen Katherine Parr

King Edward VI
Queen Mary I
Queen Elizabeth I
Henry Fitzroy, Duke of Richmond

Margaret Tudor, Queen of Scotland
James IV, King of Scotland
The Battle of Flodden Field, 1513
James V, King of Scotland
Mary of Guise, Queen of Scotland

Mary Tudor, Queen of France
Louis XII, King of France
Francis I, King of France
The Battle of the Spurs, 1513
Field of the Cloth of Gold, 1520
Charles V, Holy Roman Emperor
Eustace Chapuys, Imperial Ambassador
The Siege of Boulogne, 1544

Cardinal Thomas Wolsey
Archbishop Thomas Cranmer
Thomas Cromwell, Earl of Essex
Thomas, Lord Audley
Thomas Wriothesley, E. Southampton
Sir Richard Rich

Edward Stafford, D. of Buckingham
Thomas Howard, 2nd Duke of Norfolk
Thomas Howard, 3rd Duke of Norfolk
John Dudley, Duke of Northumberland
Charles Brandon, Duke of Suffolk
Thomas Boleyn, Earl of Wiltshire
George Boleyn, Viscount Rochford
John Russell, Earl of Bedford
Thomas Grey, 2. Marquis of Dorset
Henry Grey, D. of Suffolk
Charles Somerset, Earl of Worcester
George Talbot, 4. E. Shrewsbury
Francis Talbot, 5. E. Shrewsbury
Henry Algernon Percy,
5th Earl of Northumberland
Henry Algernon Percy,
6th Earl of Northumberland
Ralph Neville, 4. E. Westmorland
Henry Neville, 5. E. Westmorland
William Paulet, Marquis of Winchester
Sir Francis Bryan
Sir Nicholas Carew
John de Vere, 15th Earl of Oxford
John de Vere, 16th Earl of Oxford
Thomas Seymour, Lord Admiral
Edward Seymour, Protector Somerset
Margaret Pole, Countess of Salisbury
Henry Pole, Lord Montague
Sir Geoffrey Pole
Thomas Manners, Earl of Rutland
Henry Manners, Earl of Rutland
Henry Bourchier, 2. Earl of Essex
Robert Radcliffe, 1. Earl of Sussex
Henry Radcliffe, 2. Earl of Sussex
George Hastings, Earl of Huntingdon
Henry Courtenay, Marquis of Exeter
George Neville, Baron Bergavenny
Sir Edward Neville
William, Lord Paget
William Sandys, Baron Sandys
William Fitzwilliam, E. Southampton
Sir Anthony Browne
Sir Thomas Wriothesley
Sir William Kingston
George Brooke, Lord Cobham
Sir Richard Southwell
Thomas Fiennes, 9th Lord Dacre
Sir Francis Weston
Henry Norris
Lady Jane Grey
Sir Thomas Arundel
Sir Richard Sackville
Sir William Petre
Sir John Cheke
Walter Haddon, L.L.D
Sir Peter Carew
Sir John Mason
Nicholas Wotton
John Taylor
Sir Thomas Wyatt, the Younger

Cardinal Lorenzo Campeggio
Cardinal Reginald Pole
Stephen Gardiner, Bishop of Winchester
Edmund Bonner, Bishop of London
Nicholas Ridley, Bishop of London
John Hooper, Bishop of Gloucester
John Aylmer, Bishop of London
Thomas Linacre
William Grocyn
Archbishop William Warham
Cuthbert Tunstall, Bishop of Durham
Richard Fox, Bishop of Winchester
Edward Fox, Bishop of Hereford

Pope Julius II
Pope Leo X
Pope Clement VII
Pope Paul III
Pope Pius V

Pico della Mirandola
Desiderius Erasmus
Martin Bucer
Richard Pace
Christopher Saint-German
Thomas Tallis
Elizabeth Barton, the Nun of Kent
Hans Holbein, the Younger
The Sweating Sickness

Dissolution of the Monasteries
Pilgrimage of Grace, 1536
Robert Aske
Anne Askew
Lord Thomas Darcy
Sir Robert Constable

Oath of Supremacy
The Act of Supremacy, 1534
The First Act of Succession, 1534
The Third Act of Succession, 1544
The Ten Articles, 1536
The Six Articles, 1539
The Second Statute of Repeal, 1555
The Act of Supremacy, 1559
Articles Touching Preachers, 1583

Queen Elizabeth I
William Cecil, Lord Burghley
Robert Cecil, 1st Earl of Salisbury
Sir Francis Walsingham
Sir Nicholas Bacon
Sir Thomas Bromley

Robert Dudley, Earl of Leicester
Ambrose Dudley, Earl of Warwick
Henry Carey, Lord Hunsdon
Sir Thomas Egerton, Viscount Brackley
Sir Francis Knollys
Katherine "Kat" Ashley
Lettice Knollys, Countess of Leicester
George Talbot, 6. E. of Shrewsbury
Elizabeth, Countess of Shrewsbury
Gilbert Talbot, 7. E. of Shrewsbury
Sir Henry Sidney
Sir Robert Sidney
Archbishop Matthew Parker
Walter Devereux, 1st Earl of Essex
Robert Devereux, 2nd Earl of Essex
Penelope Devereux, Lady Rich
Sir Christopher Hatton
Edward Courtenay, E. Devonshire
Edward Manners, 3rd Earl of Rutland
Thomas Radcliffe, 3. Earl of Sussex
Henry Radcliffe, 4. Earl of Sussex
Robert Radcliffe, 5. Earl of Sussex
William Parr, Marquis of Northampton
Henry Wriothesley, 2. Southampton
Henry Wriothesley, 3. Southampton
Charles Neville, 6. E. Westmorland
Thomas Percy, 7. E. Northumberland
Henry Percy, 8. E. Northumberland
Henry Percy, 9. E. Nothumberland
William Herbert, 1. Earl of Pembroke
Charles, Lord Howard of Effingham
Thomas Howard, 4th Duke of Norfolk
Henry Howard, 1. Earl of Northampton
Thomas Howard, 1. Earl of Suffolk
Henry Hastings, 3. E. of Huntingdon
Edward Manners, 3rd Earl of Rutland
Roger Manners, 5th Earl of Rutland
Francis Manners, 6th Earl of Rutland
Henry FitzAlan, 12. Earl of Arundel
Thomas, Earl Arundell of Wardour
Edward Somerset, E. of Worcester
William Davison
Sir Walter Mildmay
Sir Ralph Sadler
Sir Amyas Paulet
Gilbert Gifford
Anthony Browne, Viscount Montague
François, Duke of Alençon & Anjou

Mary, Queen of Scots
Henry Stuart, Lord Darnley
James Hepburn, Earl of Bothwell
Anthony Babington and the Babington Plot
John Knox

Philip II of Spain
The Spanish Armada, 1588
Sir Francis Drake
Sir John Hawkins

William Camden
Archbishop Whitgift
Martin Marprelate Controversy
John Penry (Martin Marprelate)
Richard Bancroft, Archbishop of Canterbury
John Dee, Alchemist

Philip Henslowe
Edward Alleyn
The Blackfriars Theatre
The Fortune Theatre
The Rose Theatre
The Swan Theatre
Children's Companies
The Admiral's Men
The Lord Chamberlain's Men
Citizen Comedy
The Isle of Dogs, 1597

Common Law
Court of Common Pleas
Court of King's Bench
Court of Star Chamber
Council of the North
Fleet Prison
Assize
Attainder
First Fruits & Tenths
Livery and Maintenance
Oyer and terminer
Praemunire


The Stuarts

King James I of England
Anne of Denmark
Henry, Prince of Wales
The Gunpowder Plot, 1605
George Villiers, 1st Duke of Buckingham
Robert Carr, Earl of Somerset
Arabella Stuart, Lady Lennox

William Alabaster
Bishop Hall
Bishop Thomas Morton
Archbishop William Laud
John Selden
Lucy Harington, Countess of Bedford
Henry Lawes

King Charles I
Queen Henrietta Maria

Long Parliament
Rump Parliament
Kentish Petition, 1642

Thomas Wentworth, Earl of Strafford
John Digby, Earl of Bristol
George Digby, 2nd Earl of Bristol
Thomas Fairfax, 3rd Lord Fairfax
Robert Devereux, 3rd E. of Essex
Robert Sidney, 2. E. of Leicester
Algernon Percy, E. of Northumberland
Henry Montagu, Earl of Manchester
Edward Montagu, 2. Earl of Manchester

The Restoration

King Charles II
King James II
Test Acts

Greenwich Palace
Hatfield House
Richmond Palace
Windsor Palace
Woodstock Manor

The Cinque Ports
Mermaid Tavern
Malmsey Wine
Great Fire of London, 1666
Merchant Taylors' School
Westminster School
The Sanctuary at Westminster
"Sanctuary"


Images:

Chart of the English Succession from William I through Henry VII

Medieval English Drama

London c1480, MS Royal 16
London, 1510, the earliest view in print
Map of England from Saxton's Descriptio Angliae, 1579
Location Map of Elizabethan London
Plan of the Bankside, Southwark, in Shakespeare's time
Detail of Norden's Map of the Bankside, 1593
Bull and Bear Baiting Rings from the Agas Map (1569-1590, pub. 1631)
Sketch of the Swan Theatre, c. 1596
Westminster in the Seventeenth Century, by Hollar
Visscher's Panoramic View of London, 1616. COLOR
c. 1690. View of London Churches, after the Great Fire
The Yard of the Tabard Inn from Thornbury, Old and New London