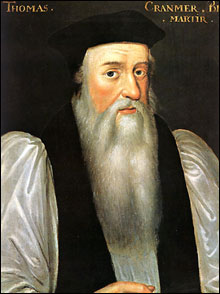 Letter of Archbishop Cranmer to King Henry VIII.

[1536]*

Harl MSS. 787. fol. 18



Pleaseth it your Grace to be advertised, that I have received news out of Rome, from one named John Bianket, a Bononois born, some time my servant, and now servant unto the Cardinal1 which was late bishop of Worcester, Ellis, and more privy with him of all secrets than any other about him. And among other things thus he writeth: " The Pope has called hither many prelates2 for matters concerning the Council, among whom is Mr. Raynold Pole3 made much of and much set by, and received of the Pope himself very gladly. And because the saying is, that the King had sent for him home into England, and desired him, and promised him also great things if he would come, or at the least if that he would not go to Rome;4 he now is come hither, not regarding the King's desire, promise, nor threats. And here men do esteem and think surely that the Pope will make him cardinal, and now he hath given him lodgings for himself within the palace, and will have him near him.
" And among those great men that be here for this matter, the selfsame Raynold Pole is here truly most esteemed and most set by of all. And doubtless they be all5 singular fellows, and such as ever absented themselves from the Court, desiring to live holily: as the Bishop of Verona, the Bishop of Chiete, the Archbishop of Salerne, the Bishop of Carpentras, otherwise called Sadoletus, and many other that now be here, for ... to consult these matters of the Council; the which I cannot see how it can go forward, as long as the matters of war kindled between the princes are unquenched, without whom it is like that it cannot go forward. Nevertheless there be sent messengers to intimate the Council through Christendom, leaving you apart, to whom they will intimate it there in writing and in citations. Friar Denis, which wrote on the King's side, being now General of the religion, cometh as ambassador from the Pope towards the King of Scotts.
" The Emperor6 is now in Genoa, and many princes, specially the Duke of Florence"7 go to see him, and to show themselves glad that he is arrived there safe and in good health; which chanced but to a few gentlemen, which be almost all sick.8
" There is entreaty made for peace all that may be, and it seemeth that the Frenchmen have good hope therein; for they have left off war, and have no more men in Italy now but Guido Rangone his men, and those of Turin; which as yet they hold, with certain other castles. And the Pope is fervent and hot in entreating of this peace.9" Here have I written the very words of the letter, as I did translate them out of Italian into English, as near as I could word for word, which I can do no less than signify unto your Highness, forsomuch as there be some things concerning the General Council and Mr. Raynold Pole, whereof I thought it my duty to give notice unto your Grace. And thus I beseech the mighty Lord of lords to strengthen and preserve your Grace ever, and to resist and suppress all your Highness's adversaries with your rebel and untrue subjects.10 At Knoll, the 18th day of November. [1536.]

Your Grace's most humble
chaplain and beadsman,
T. Cantuarien.11

To the King's Highness.




* Mr. Todd [The Life of Archbishop Cranmer] has assigned this Letter to 1533; Mr. Ellis [Original Letters, Illustrative of English History] has given it no date, but has placed it among papers of 1535. The historical events which it mentions, sufficiently prove it to have been written in 1536. See the following notes.

Jerome de Ghinucci, deprived, together with Campegio, by Act of Parliament in 1534. He had been employed by Hen. VIII. in many embassies, and had the reputation of having served him faithfully. Burnet, The History of the Reformation of the Church of England, vol. i. p. 301.

Pope Paul III. by a bull issued the 2nd of June 1536, summoned a Council to meet at Mantua on the 23rd of May 1537. As a previous measure, he assembled at Rome "persons of known abilities to concert means of facilitating a happy issue to so necessary and arduous an undertaking." Mosheim, Cent. xvi. Sect. 1. §. 9. Phillips, Life of Pole, p. 135.

[See Reginald Pole].

Reginald, in obedience to Paul's III's orders, was now set out from Venice in his way to Rome, when a courier from England overtook him at Verona. The news of his journey had already reached the King's ears, and the courier came furnished with every argument to disconcert it. Lord Cromwell expressed himself by nothing but threats and inventions: Tunstall renewed his objections to the papal authority: but the other letters were eloquent indeed, being from the Countess of Salisbury his mother, and his brother Lord Montague; in which they entreated him, by all the ties of duty and affection, to desist from a step which was so displeasing to the King." Phillips, Life of Pole, p. 137.

These were doubtless the same distinguished men, who, on the prorogation of the Council, were directed by the Pope to digest a plan of reformation. They were nine in number. "Pole was in the thirty-sixth year of his age, and the youngest of all his associates: and though they were men of the first character for learning and probity, yet he was the directing mind that governed the whole, and alone drew up the plan of reformation, the substance of which had been the joint labours of them all; and when it was printed some years after, it appeared in his name, without any mention of his colleagues." Phillips, Life of Pole. The names of the Commissioners and an abstract of their plan may be seen in Sleidan, De Statu Religionis, lib. xii.

Charles V. went to Genoa on his return from his disastrous campaign in Provence. "As he could not bear to expose himself to the scorn of the Italians after such a sad reverse of fortune, he embarked directly for Spain," in Nov. 1536. Robertson, Hist. of Charles V. b. vi.

Alexander de Medici, who was assassinated in the beginning of 1537 by his nearest kinsman, Lorenzo. Robertson, ibid.

Charles V. had lost one half of his troops by disease or famine. Robertson, ibid.

"The Pope made it his business to procure a cessation of arms in Italy and other places. First therefore the truce was agreed upon for a certain time; when that was expired, it was continued for another; till at last a peace was made. Now the Pope's design in reconciling these princes, was to persuade them to join their forces against his mortal enemy the King of England, and against the Lutherans." Sleidan, b. xi. This peace, or rather truce for ten years between Charles and Francis, was concluded in June 1538. Sleidan, b. xii.

The rising in Lincolnshire had been put down, but the formidable rebellion in Yorkshire [see Pilgrimage of Grace] under Aske, was still raging in Nov. 1536. See Lord Herbert, Life of Hen. VIII, and State Papers, vol. i. p. 511, &c.

[Thomas Cantuariensis, i.e., Thomas of Canterbury.]

---


The Remains of Thomas Cranmer. Vol I. Rev. Henry Jenkyns, Ed.
Oxford: Oxford University Press, 1833. 175-178.


---
| | |
| --- | --- |
| | to Works of Thomas Cranmer |
| | to King Henry VIII |
| | to Cardinal Reginald Pole |
| | to Luminarium Encyclopedia |




Site copyright ©1996-2010 Anniina Jokinen. All Rights Reserved.
Created by Anniina Jokinen on July 11, 2009. Last updated April 8, 2010.






The Tudors

King Henry VII
Elizabeth of York

King Henry VIII
Queen Catherine of Aragon
Queen Anne Boleyn
Queen Jane Seymour
Queen Anne of Cleves
Queen Catherine Howard
Queen Katherine Parr

King Edward VI
Queen Mary I
Queen Elizabeth I
Henry Fitzroy, Duke of Richmond

Renaissance English Writers
Bishop John Fisher
William Tyndale
Sir Thomas More
John Heywood
Thomas Sackville
Nicholas Udall
John Skelton
Sir Thomas Wyatt
Henry Howard
Hugh Latimer
Thomas Cranmer
Roger Ascham
Sir Thomas Hoby
John Foxe
George Gascoigne
John Lyly
Thomas Nashe
Sir Philip Sidney
Edmund Spenser
Richard Hooker
Robert Southwell
Robert Greene
George Peele
Thomas Kyd
Edward de Vere
Christopher Marlowe
Anthony Munday
Sir Walter Ralegh
Thomas Hariot
Thomas Campion
Mary Sidney Herbert
Sir John Davies
Samuel Daniel
Michael Drayton
Fulke Greville
Emilia Lanyer
William Shakespeare


Persons of Interest
Cardinal Thomas Wolsey
Archbishop Thomas Cranmer
Thomas Cromwell
John Fisher, Bishop of Rochester
Cardinal Lorenzo Campeggio
Cardinal Reginald Pole
Stephen Gardiner, Bishop of Winchester
William Tyndale
Pico della Mirandola
Desiderius Erasmus
Christopher Saint-German
Thomas Linacre
William Grocyn
Hugh Latimer
Elizabeth Barton, the Nun of Kent
For more, visit Encyclopedia


Historical Events
Field of the Cloth of Gold, 1520
Pilgrimage of Grace, 1536
The Babington Plot, 1586
The Spanish Armada, 1588


Government
Oath of Supremacy
The Act of Supremacy, 1534
The First Act of Succession, 1534
The Third Act of Succession, 1544
The Ten Articles, 1536
The Six Articles, 1539
The Second Statute of Repeal, 1555


Images of London:
London in the time of Henry VII. MS. Roy. 16 F. ii.
London, 1510, earliest view in print
Map of England from Saxton's Descriptio Angliae, 1579
Location Map of Elizabethan London
Plan of the Bankside, Southwark, in Shakespeare's time
Detail of Norden's Map of the Bankside, 1593
Bull and Bear Baiting Rings from the Agas Map (1569-1590, pub. 1631)
Sketch of the Swan Theatre, c. 1596
Westminster in the Seventeenth Century, by Hollar
Visscher's Panoramic View of London, 1616. COLOR



For more, visit Encyclopedia