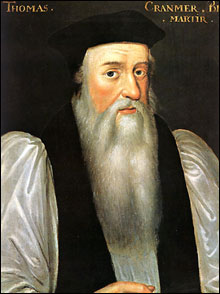 Letter of Archbishop Cranmer to King Henry VIII,
Regarding Queen Catherine Howard.1

[November 1541]



It may please your Majesty to understand, that at my repair unto the Queen's Grace,2 I found herein such lamentation and heaviness, as I never saw no creature; so that it would have pitied any man's heart in the world to have looked upon her; and in that vehement rage she continued, as they informed me which be about her, from my departure from her unto my return again; and then I found her, as I do suppose, far entered toward a frenzy, which I feared before my departure from her at my first being with her; and surely, if your Grace's comfort had not come in time, she could have continued no long time in that condition without a frenzy, which, nevertheless, I do yet much suspect to follow hereafter.

And as for my message from your Majesty unto her, I was purposed to enter communication in this wise; first, to exaggerate the grievousness of her demerits; then to declare unto her the justice of your Grace's laws, and what she ought to suffer by the same; and last of all to signify unto her your most gracious mercy: but when I saw in what condition she was, I was fain to turn my purpose, and to begin at the last part first, to comfort her by your Grace's benignity and mercy; for else the recital of your Grace's laws, with the aggravation of her offences, might, peradventure, have driven her unto some dangerous ecstasy, and else into a very frenzy; so that the words of comfort coming last might peradventure have come too late. And after I had declared your Grace's mercy extended unto her, she held up her hands and gave most humble thanks unto your Majesty, who had showed unto her more grace and mercy,3 than she herself thought meet to sue for or could have hoped of; and then, for a time, she began to be more temperate and quiet, saving that she still sobbed and wept; but after a little pausing she suddenly fell into a new rage, much worse than she was before.

Now I do use her thus; when I do see her in any such extreme brayds,4 I do travail with her to know the cause, and then, as much as I can, I do labour to take away, or at the least to mitigate the cause; and so I did at that time. I told her there was some new fantasy come into her head, which I desired her to open unto me; and after a certain time, when she had recovered herself that she might speak, she cried and said, 'Alas, my lord, that I am alive, the fear of death grieved me not so much before, as doth now the remembrance of the King's goodness; for when I remember how gracious and loving a Prince I had, I cannot but sorrow; but this sudden mercy, and more than I could have looked for, showed unto me, so unworthy at this time, maketh mine offences to appear before mine eyes much more heinous than they did before: and the more I consider the greatness of his mercy, the more I do sorrow in my heart that I should so misorder myself against his Majesty.' And for any thing that I could say unto her, she continued in a great pang a long while, but after that she began something to remit her rage and come to herself, she was meetly well until night, and I had very good communication with her, and, as I thought, had brought her unto a great quietness.

Nevertheless, at night, about six of the clock, she fell into another like pang, but not so outrageous as the first was; and that was, as she showed me, for the remembrance of the time; for about that time, as she said, Master Hennage was wont to bring her knowledge of your Grace.

And because I lack time to write all things unto your Majesty, I have referred other things to be opened by the mouth of this bearer, Sir John Dudlay; saving that I have sent herewith enclosed all that I can get of her concerning any communication of matrimony with Derame; which, although it be not so much as I thought, yet I suppose, surely, it is sufficient to prove a contract, with carnal copulation following; although she think it be no contract, as indeed the words alone be not, if carnal copulation had not followed thereof.

The cause that Master Baynton5 sent unto your Majesty, was partly for the declaration of her estate, and partly because, after my departure from her, she began to excuse and to temper those things which she had spoken unto me, and set her hand thereto;6 as at my coming unto your Majesty I shall more fully declare by mouth; for she saith, that all that Derame did unto her was of his importune forcement, and, in a manner, violence, rather than of her free consent and will. Thus Almighty God have your Majesty in his preservation and governance. [Nov. 1541.]
From,

Your Grace's most bounden
chaplain,
T. Cantuarien.

To the King's Majesty.



1. The Original of this Letter, preserved in the State Paper Office, is entirely in the Archbishop's handwriting.

2. Catharine Howard. According to the official statement sent on the 14th of Nov. to the English Ambassador in France, the Queen"was spoken withal in it by the Archbishop of Canterbury, the Lord Chancellor, the Duke of Norfolk, the Lord Great Chamberlain of England, and the Bishop of Winchester; to whom at the first she "constantly denied it; but the matter being so declared unto her, that she perceived it to be wholly disclosed, the same night she disclosed the whole to the Archbishop of Canterbury, who took the confession of the same in writing, subscribed with her hand." Lord Herbert, Life of Hen. VIII. p. 534. The interview described in this Letter of Cranmer's seems to have been subsequent to her first confession, and was perhaps the same at which she signed the paper printed by Burnet, History of the Reformation. vol. iii. App. B. iii. No. 72. Much new correspondence on this subject has lately been published in the State Papers, vol. i. p. 689, &c.

3. This boasted " mercy," as is well known, was no obstacle to her execution. She was beheaded, together with Lady Rochford, on the 12th of February following. Derham and Culpeper were executed on the 10th of December 1541.

4. Impassioned outburst.

5. It was the King's pleasure that Baynton "should attend on the Queen, to have the rule and government of the whole house; and with him the Almoner [Nicholas Hethe] to be also associate." Letter from the Council to Cranmer in State Papers, vol. i. p. 692.

6. This is probably the document printed by Burnet, Ref. vol. iii. App. B. iii. No. 72. which is signed by Catharine Howard, and which relates chiefly to her contract of matrimony with Derham. Though this precontract was the point to which Cranmer's attention was chiefly directed, the Lord Chancellor was strictly charged, in declaring the Queen's misconduct to the Privy Council, to omit all mention of it. And it is also altogether passed over in the official account sent to the ambassadors. The object of the omission is admitted to have been, "to engreave the misdemeanour," by suppressing what "might serve for her defence." Cranmer probably on the other hand wished to strengthen this defence, and to save her life by obtaining grounds for a divorce. See State Papers, vol. i. p. 692; Lord Herbert, Life of Henry VIII, p. 532.



---


The Remains of Thomas Cranmer. Vol I. Rev. Henry Jenkyns, Ed.
Oxford: Oxford University Press, 1833. 307-310.


---
| | |
| --- | --- |
| | to Works of Thomas Cranmer |
| | to King Henry VIII |
| | to Luminarium Encyclopedia |




Site copyright ©1996-2009 Anniina Jokinen. All Rights Reserved.
Created by Anniina Jokinen on August 14, 2009.






The Tudors

King Henry VII
Elizabeth of York

King Henry VIII
Queen Catherine of Aragon
Queen Anne Boleyn
Queen Jane Seymour
Queen Anne of Cleves
Queen Catherine Howard
Queen Katherine Parr

King Edward VI
Queen Mary I
Queen Elizabeth I
Henry Fitzroy, Duke of Richmond

Renaissance English Writers
Bishop John Fisher
William Tyndale
Sir Thomas More
John Heywood
Thomas Sackville
Nicholas Udall
John Skelton
Sir Thomas Wyatt
Henry Howard
Hugh Latimer
Thomas Cranmer
Roger Ascham
Sir Thomas Hoby
John Foxe
George Gascoigne
John Lyly
Thomas Nashe
Sir Philip Sidney
Edmund Spenser
Richard Hooker
Robert Southwell
Robert Greene
George Peele
Thomas Kyd
Edward de Vere
Christopher Marlowe
Anthony Munday
Sir Walter Ralegh
Thomas Hariot
Thomas Campion
Mary Sidney Herbert
Sir John Davies
Samuel Daniel
Michael Drayton
Fulke Greville
Emilia Lanyer
William Shakespeare


Persons of Interest
Cardinal Thomas Wolsey
Archbishop Thomas Cranmer
Thomas Cromwell
John Fisher, Bishop of Rochester
Cardinal Lorenzo Campeggio
Cardinal Reginald Pole
Stephen Gardiner, Bishop of Winchester
William Tyndale
Pico della Mirandola
Desiderius Erasmus
Christopher Saint-German
Thomas Linacre
William Grocyn
Hugh Latimer
Elizabeth Barton, the Nun of Kent
For more, visit Encyclopedia


Historical Events
Field of the Cloth of Gold, 1520
Pilgrimage of Grace, 1536
The Babington Plot, 1586
The Spanish Armada, 1588


Government
Oath of Supremacy
The Act of Supremacy, 1534
The First Act of Succession, 1534
The Third Act of Succession, 1544
The Ten Articles, 1536
The Six Articles, 1539
The Second Statute of Repeal, 1555


Images of London:
London in the time of Henry VII. MS. Roy. 16 F. ii.
London, 1510, earliest view in print
Map of England from Saxton's Descriptio Angliae, 1579
Location Map of Elizabethan London
Plan of the Bankside, Southwark, in Shakespeare's time
Detail of Norden's Map of the Bankside, 1593
Bull and Bear Baiting Rings from the Agas Map (1569-1590, pub. 1631)
Sketch of the Swan Theatre, c. 1596
Westminster in the Seventeenth Century, by Hollar
Visscher's Panoramic View of London, 1616. COLOR



For more, visit Encyclopedia