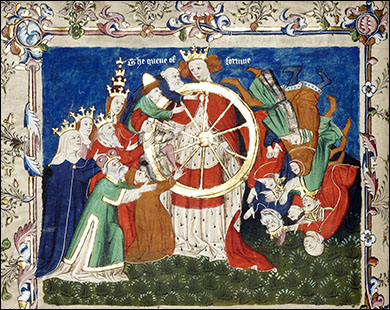 'Queen of Fortune" from Lydgate's "Troy Book", mid-15thC.
John Rowlands Library English MS 1, f. 28v.




By John Skelton



Cuncta licet cecidisse putas discrimina rerum,
Et prius incerta nunc tibi certa manent,
Consiliis usure meis tamen aspice caute,
Subdola non fallat te dea fraude sua :
Sæpe solet placido mortales fallere vultu,
Et cute sub placida tabida sæpe dolent ;
Ut quando secura putas et cuncta serena,
Anguis sub viridi gramine sæpe latet.
Though ye suppose all jeperdys ar paste,
And all is done that ye lokyd for before,
Ware yet, I rede you, of Fortunes dowble cast,
For one fals poynt she is wont to kepe in store,
And vnder the fell oft festered is the sore :
That when ye thynke all daunger for to pas,
Ware of the lesard lyeth lurkyng in the gras.


Qd Skelton, laureat.

---

Source:
Skelton, John. The Poetical Works of John Skelton. Vol. I.
Boston: Little, Brown, and Company, 1866. 33.


---
| | |
| --- | --- |
| | to Works of John Skelton |



Site copyright ©1996-2019 Anniina Jokinen. All Rights Reserved.
Created by Anniina Jokinen on January 11, 2001. Last updated February 12, 2019.





The Tudors

King Henry VII
Elizabeth of York

King Henry VIII
Queen Catherine of Aragon
Queen Anne Boleyn
Queen Jane Seymour
Queen Anne of Cleves
Queen Catherine Howard
Queen Katherine Parr

King Edward VI
Lady Jane Grey
Queen Mary I
Queen Elizabeth I


Renaissance English Writers
Bishop John Fisher
William Tyndale
Sir Thomas More
John Heywood
Thomas Sackville
Nicholas Udall
John Skelton
Sir Thomas Wyatt
Henry Howard
Hugh Latimer
Thomas Cranmer
Roger Ascham
Sir Thomas Hoby
John Foxe
George Gascoigne
John Lyly
Thomas Nashe
Sir Philip Sidney
Edmund Spenser
Richard Hooker
Robert Southwell
Robert Greene
George Peele
Thomas Kyd
Edward de Vere
Christopher Marlowe
Anthony Munday
Sir Walter Ralegh
Thomas Hariot
Thomas Campion
Mary Sidney Herbert
Sir John Davies
Samuel Daniel
Michael Drayton
Fulke Greville
Emilia Lanyer
William Shakespeare


Persons of Interest
Visit Encyclopedia


Historical Events
Field of the Cloth of Gold, 1520
Pilgrimage of Grace, 1536
The Babington Plot, 1586
The Spanish Armada, 1588


Elizabethan Theatre
See section
English Renaissance Drama


Images of London:
London in the time of Henry VII. MS. Roy. 16 F. ii.
London, 1510, the earliest view in print
Map of England from Saxton's Descriptio Angliae, 1579
Location Map of Elizabethan London
Plan of the Bankside, Southwark, in Shakespeare's time
Detail of Norden's Map of the Bankside, 1593
Bull and Bear Baiting Rings from the Agas Map (1569-1590, pub. 1631)
Sketch of the Swan Theatre, c. 1596
Westminster in the Seventeenth Century, by Hollar
Visscher's Panoramic View of London, 1616. COLOR