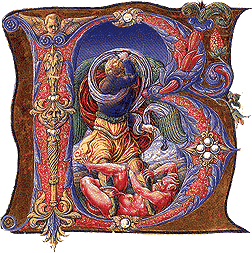 Liberale da Verona: Saint Michael The Archangel
From cod. 28.12, c.80 v. ca. 1472?
Piccolomini Library, Siena.



Of the feigned friend
by Sir Thomas Wyatt


Right true it is, and said full yore ago:
Take heed of him, that by the back thee claweth.
For, none is worse, than is a friendly foe.
Though he seem good, all thing that thee delighteth,
Yet know it well, that in thy bosom creepeth.
For, many a man such fire oft times he kindleth:
That with the blaze his beard himself he singeth.



---

Edited and glossed from
Tottel's Songes and Sonettes, 1557
by Anniina Jokinen.


---
| | |
| --- | --- |
| | to Works of Sir Thomas Wyatt |
Site copyright ©1996-2007 Anniina Jokinen. All Rights Reserved.
Created by Anniina Jokinen on August 2, 1997. Last updated January 20, 2007.