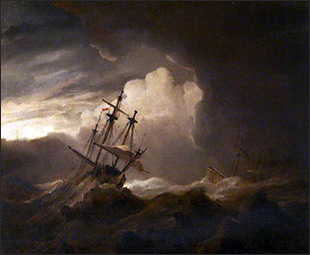 Willem van de Velde the Younger, Ships in a Storm.


THE LOVER COMPARETH HIS STATE TO A

SHIP IN PERILOUS STORM TOSSED

ON THE SEA.1



Y galley chargèd with forgetfulness
  Thorough2 sharp seas, in winter nights doth pass
  'Tween rock and rock; and eke3 mine enemy, alas,
That is my lord, steereth with cruelness,
And every oar a thought in readiness,
As though that death were light in such a case.4
An endless wind doth tear the sail apace
Of forcèd sighs and trusty fearfulness.5
A rain of tears, a cloud of dark disdain,
Hath done the wearied cords great hinderance;
Wreathèd with error and eke with ignorance.
The stars be hid that led me to this pain.
    Drownèd is reason that should me consort,6
    And I remain despairing of the port.




1 Translated from Petrarch's Rime 189.
2 Through.
3 Also.
4 As though my destruction would not matter much.
5 Fear to trust.
6 Accompany.




---

Audio reading ©2012 Anniina Jokinen:
For the direct .MP3 file, click here.


---





Image of the poem in Egerton MS. 2711.


---
Text source:
The Norton Anthology of English Literature. 6th ed. Vol I.
M. H. Abrams, Gen. Ed. New York, W. W. Norton & Co. 1993. 440-1.

---
| | |
| --- | --- |
| | to Sir Thomas Wyatt |



Site copyright ©1996-2018 Anniina Jokinen. All Rights Reserved.
Created by Anniina Jokinen on September 26, 1996. Last updated December 21, 2018.





The Tudors

King Henry VII
Elizabeth of York

King Henry VIII
Queen Catherine of Aragon
Queen Anne Boleyn
Queen Jane Seymour
Queen Anne of Cleves
Queen Catherine Howard
Queen Katherine Parr

King Edward VI
Lady Jane Grey
Queen Mary I
Queen Elizabeth I


Renaissance English Writers
Bishop John Fisher
William Tyndale
Sir Thomas More
John Heywood
Thomas Sackville
Nicholas Udall
John Skelton
Sir Thomas Wyatt
Henry Howard
Hugh Latimer
Thomas Cranmer
Roger Ascham
Sir Thomas Hoby
John Foxe
George Gascoigne
John Lyly
Thomas Nashe
Sir Philip Sidney
Edmund Spenser
Richard Hooker
Robert Southwell
Robert Greene
George Peele
Thomas Kyd
Edward de Vere
Christopher Marlowe
Anthony Munday
Sir Walter Ralegh
Thomas Hariot
Thomas Campion
Mary Sidney Herbert
Sir John Davies
Samuel Daniel
Michael Drayton
Fulke Greville
Emilia Lanyer
William Shakespeare


Persons of Interest
Visit Encyclopedia


Historical Events
Field of the Cloth of Gold, 1520
Pilgrimage of Grace, 1536
The Babington Plot, 1586
The Spanish Armada, 1588


Elizabethan Theatre
See section
English Renaissance Drama


Images of London:
London in the time of Henry VII. MS. Roy. 16 F. ii.
London, 1510, the earliest view in print
Map of England from Saxton's Descriptio Angliae, 1579
Location Map of Elizabethan London
Plan of the Bankside, Southwark, in Shakespeare's time
Detail of Norden's Map of the Bankside, 1593
Bull and Bear Baiting Rings from the Agas Map (1569-1590, pub. 1631)
Sketch of the Swan Theatre, c. 1596
Westminster in the Seventeenth Century, by Hollar
Visscher's Panoramic View of London, 1616. COLOR