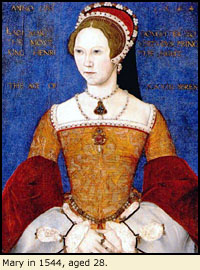 A DESCRIPTION OF A
MOST NOBLE LADY

ADVIEWED BY JOHN HEYWOOD,
PRESENTLY; WHO ADVERTISING HER YEARS, AS
FACE, SAITH OF HER THUS, IN MUCH ELOQUENT
PHRASE:



Give place, ye ladies! all be gone;
Show not yourselves at all.
For why? behold! there cometh one
Whose face yours all blank shall.

The virtue of her looks
Excels the precious stone;
Ye need none other books
To read, or look upon.

In each of her two eyes
There smiles a naked boy;1
It would you all suffice
To see those lamps of joy.

If all the world were sought full far,
Who could find such a wight?2
Her beauty twinkleth like a star
Within the frosty night.

Her colour3 comes and goes—
With such a goodly grace,
More ruddy4 than the rose—
Within her lively face.

Amongst her youthful years
She triumphs over age;
And yet she still appears
Both witty, grave, and sage.

I think nature hath lost her mould
Where she her form did take;
Or else I doubt that nature could
So fair a creature make.

She may be well compared
Unto the phoenix kind;
Whose like hath not been heard
That any now can find.

In life a Dian5 chaste;
In truth Penelope;6
In word and deed steadfast—
What need I more to say?

At Bacchus'7 feast none may her meet;
Or yet at any wanton play;
Nor gazing in the open street,
Or wandering, as astray.

The mirth that she doth use
Is mixed with shamefastness;8
All vices she eschews,
And hateth idleness.

It is a world to see
How virtue can repair,
And deck such honesty
In her that is so fair.

Great suit to vice may some allure
That thinks to make no fault;
We see a fort had need be sure
Which many doth assault.

They seek an endless way
That think to win her love;
As well they may assay
The stony rock to move.

For she is none of those
That sets not by evil fame;
She will not lightly lose
Her truth and honest name.

How might we do to have a graff9
Of this unspotted tree?
For all the rest they are but chaff
In praise of her to be.

She doth as far exceed
These women, nowadays,
As doth the flower the weed;
And more, a thousand ways.

This praise I shall her give
When Death doth what he can;
Her honest name shall live
Within the mouth of man.

This worthy lady to bewray10—
A king's daughter was she—
Of whom John Heywood list to say,
In such worthy degree.

And Mary was her name, sweet ye,
With these graces indued;
At eighteen years so flourished she:
So doth his mean11 conclude.






[AJ Notes:]
1. Cupid, inspiring men to love.
2. Creature.
3. Blush.
4. Reddish; rosy.
5. Diana, Roman goddess of chastity.
6. Wife of Odysseus, paragon of faithfulness.
7. Roman god of wine and hedonism.
8. Modesty.
9. Graft.
10. Divulge.
11. Either "device" or "inferior poem".


---

Source:
Farmer, John S., ed. The Proverbs, Epigrams, and Miscellanies of John Heywood.
London: Early English Drama Society, 1906. 300-302.


---
| | |
| --- | --- |
| | to Works of John Heywood |



Site copyright ©1996-2018 Anniina Jokinen. All rights reserved.
This page created by Anniina Jokinen on November 21, 2010. Last updated December 16, 2018.





The Tudors

King Henry VII
Elizabeth of York

King Henry VIII
Queen Catherine of Aragon
Queen Anne Boleyn
Queen Jane Seymour
Queen Anne of Cleves
Queen Catherine Howard
Queen Katherine Parr

King Edward VI
Lady Jane Grey
Queen Mary I
Queen Elizabeth I


Renaissance English Writers
Bishop John Fisher
William Tyndale
Sir Thomas More
John Heywood
Thomas Sackville
Nicholas Udall
John Skelton
Sir Thomas Wyatt
Henry Howard
Hugh Latimer
Thomas Cranmer
Roger Ascham
Sir Thomas Hoby
John Foxe
George Gascoigne
John Lyly
Thomas Nashe
Sir Philip Sidney
Edmund Spenser
Richard Hooker
Robert Southwell
Robert Greene
George Peele
Thomas Kyd
Edward de Vere
Christopher Marlowe
Anthony Munday
Sir Walter Ralegh
Thomas Hariot
Thomas Campion
Mary Sidney Herbert
Sir John Davies
Samuel Daniel
Michael Drayton
Fulke Greville
Emilia Lanyer
William Shakespeare


Persons of Interest
Visit Encyclopedia


Historical Events
Field of the Cloth of Gold, 1520
Pilgrimage of Grace, 1536
The Babington Plot, 1586
The Spanish Armada, 1588


Elizabethan Theatre
See section
English Renaissance Drama


Images of London:
London in the time of Henry VII. MS. Roy. 16 F. ii.
London, 1510, the earliest view in print
Map of England from Saxton's Descriptio Angliae, 1579
Location Map of Elizabethan London
Plan of the Bankside, Southwark, in Shakespeare's time
Detail of Norden's Map of the Bankside, 1593
Bull and Bear Baiting Rings from the Agas Map (1569-1590, pub. 1631)
Sketch of the Swan Theatre, c. 1596
Westminster in the Seventeenth Century, by Hollar
Visscher's Panoramic View of London, 1616. COLOR