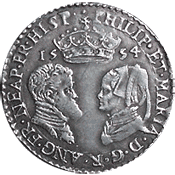 A BALLAD



SPECIFYING PARTLY THE MANNER, PARTLY THE
MATTER, IN THE MOST EXCELLENT MEETING
AND LIKE MARRIAGE BETWEEN OUR SOVEREIGN
LORD AND OUR SOVEREIGN LADY THE KING'S
AND QUEEN'S HIGHNESS*



PENNED BY JOHN HEYWOOD

Imprinted at London by William Ryddell.



The eagle's bird1 hath spread his wings,
And from far off hath taken flight,
In which mean way by no leverings2
On bough or branch this bird would light;
Till on the rose, both red and white,3
He 'lighteth now most lovingly,
And thereto most behovingly.

The month ensuing next to June,4
This bird this flower for perch doth take,
Rejoicingly himself to prune,5
He rouseth ripely to awake
Upon this perch to those his make:6
Concluding straight, for ripe right rest,
In the lion's bower7 to build his nest.

A bird, a beast, to make,8 to choose,
Namely, the beast most furious,
It may seem strange, and so it does,
And to this bird injurious;
It seemeth a case right curious
To make construction in such sense,
As may stand for this bird's defence.

But mark, this lion so by name,
Is properly a lamb t'assign,
No lion wild, a lion tame,
No rampant lion masculine,
The lamb-like lion feminine,
Whose mild meek property allureth
This bird to light, and him assureth.

The eagle's bird, the eagle's heir,
All other birds far surmounting,
The crowned lion matcheth fair,
Crown unto crown this bird doth bring;
A queenly queen, a kingly king.
Thus, like to like here matchèd is—
What match may match more meet9 than this?

So meet a match in parentage,
So meet a match in dignity,
So meet a match in patronage,
So meet match in benignity,
So matched from all malignity,
As, (thanks to God given for the same),
Seldom hath been seen; thus sayeth the fame.

This meet-met match, at first meeting,
In their approach together near,
Lowly,10 lovely, lively greeting,
In each to other did so appear,
That lookers-on, all must grant clear,
Their usage of such humane reach,
As all might learn, but none could teach.

Thou,11 in conjoining of these twain,
Such sacred solemn solemnity,
Such fare in feast to entertain,
Such notable nobility,
Such honour with such honesty,
Such joy, all these to plat in plot,12
Plat them who can, for I cannot.

But here one dainty president,
Number so great in place so small,
Nations so many, so different,
So suddenly met; so agree all,
Without offensive word let fall;
Save sight of twain, for whom all met,
No one sight there, like this to get.

This lamb-like lion and lamb-like bird,
To show effect as cause affords,
For that they lamb-like be concurred,
The lamb of lambs, the lord of lords;
Let us like lambs, as most accords,13
Most meekly thank in humble wise,14
As humble heart may most devise.

Which thanks full given most thankfully,
To prayer fall we on our knees,
That it may like that Lord on high
In health and wealth to prosper these,
As faith for their most high degree:
And that all we, their subjects, may
Them and their laws love and obey.

And that between these twain and one.
The three and one,15 one once to send.16
In one to knit us everyone,
And to that one such mo17 at end,
As his will only shall extend.
Grant this, good God! adding thy grace,
To make us meet to obtain this case.



FINIS.






[AJ Notes:]
* Queen Mary married Philip II of Spain on 25 July, 1554.
1. Philip, symbolized by the Spanish imperial eagle.
2. Use of force.
3. Mary I, symbolized by the Tudor rose.
4. July.
5. Groom.
6. Mate.
7. The lion symbolizing the English sovereign, Mary.
8. For a mate.
9. Befitting; equal.
10. Humbly; meekly.
11. i.e., God.
12. Plait in a pattern.
13. Befits.
14. Style.
15. i.e., God who is at once a trinity and one entity.
16. i.e., send one heir.
17. More.


---

Source:
Farmer, John S., ed. The Proverbs, Epigrams, and Miscellanies of John Heywood.
London: Early English Drama Society, 1906. 315-318.


---
| | |
| --- | --- |
| | to Works of John Heywood |



Site copyright ©1996-2018 Anniina Jokinen. All rights reserved.
This page created by Anniina Jokinen on November 19, 2010. Last updated December 16, 2018.





The Tudors

King Henry VII
Elizabeth of York

King Henry VIII
Queen Catherine of Aragon
Queen Anne Boleyn
Queen Jane Seymour
Queen Anne of Cleves
Queen Catherine Howard
Queen Katherine Parr

King Edward VI
Lady Jane Grey
Queen Mary I
Queen Elizabeth I


Renaissance English Writers
Bishop John Fisher
William Tyndale
Sir Thomas More
John Heywood
Thomas Sackville
Nicholas Udall
John Skelton
Sir Thomas Wyatt
Henry Howard
Hugh Latimer
Thomas Cranmer
Roger Ascham
Sir Thomas Hoby
John Foxe
George Gascoigne
John Lyly
Thomas Nashe
Sir Philip Sidney
Edmund Spenser
Richard Hooker
Robert Southwell
Robert Greene
George Peele
Thomas Kyd
Edward de Vere
Christopher Marlowe
Anthony Munday
Sir Walter Ralegh
Thomas Hariot
Thomas Campion
Mary Sidney Herbert
Sir John Davies
Samuel Daniel
Michael Drayton
Fulke Greville
Emilia Lanyer
William Shakespeare


Persons of Interest
Visit Encyclopedia


Historical Events
Field of the Cloth of Gold, 1520
Pilgrimage of Grace, 1536
The Babington Plot, 1586
The Spanish Armada, 1588


Elizabethan Theatre
See section
English Renaissance Drama


Images of London:
London in the time of Henry VII. MS. Roy. 16 F. ii.
London, 1510, the earliest view in print
Map of England from Saxton's Descriptio Angliae, 1579
Location Map of Elizabethan London
Plan of the Bankside, Southwark, in Shakespeare's time
Detail of Norden's Map of the Bankside, 1593
Bull and Bear Baiting Rings from the Agas Map (1569-1590, pub. 1631)
Sketch of the Swan Theatre, c. 1596
Westminster in the Seventeenth Century, by Hollar
Visscher's Panoramic View of London, 1616. COLOR