THE LOVER ABUSED RENOUNCETH LOVE.




Y love to scorn, my service to retain,
Therein, methought, you used cruelty ;
Since with good will I lost my liberty,
To follow her which causeth all my pain.2
Might never woe yet cause me to refrain ;
But only this, which is extremity,
To give me nought, alas, nor to agree
That, as I was, your man I might remain :
But since that thus ye list to order me,
That would have been your servant true and fast ;
Displease you not, my doting time is past ;
And with my loss to leave I must agree :
For as there is a certain time to rage,
So is there time such madness to assuage.



2 This line is supplied in Nott's edition from the Devonshire MS.



---
Audio reading ©2012 Anniina Jokinen:
To get the free Quicktime plugin, click here.
For the direct .MP3 file, click here.


---
Text source:
Yeowell, James, Ed. The Poetical Works of Sir Thomas Wyatt.
London: George Bell and Sons, 1904. 11-12.

---
| | |
| --- | --- |
| | to the Works of Sir Thomas Wyatt |


Site copyright ©1996-2012 Anniina Jokinen. All Rights Reserved.
Created by Anniina Jokinen on August 3, 2000. Last updated January 21, 2012.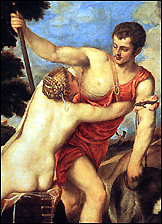 Titian. Venus and Adonis, 1553-54. Det.