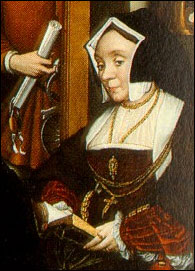 Detail of Alice More from
"The Family of Thomas More", 1592.
Rowland Lockey after Hans Holbein.
Nostell Priory, West Yorkshire.


Sir Thomas More's Letter to his Wife, Alice.

[1529]
[Returning to England from negotiations at Cambray, Sir Thomas More arrived with the King at the Palace of Woodstock to hear that his barns (and some of his neighbors') had been burnt down with all the wheat in them. He wrote to his wife, Lady Alice More, counselling her to not be too aggrieved.].

Mistress Alice, in my most heartywise I recommend me to you. And whereas I am informed by my son Heron of the loss of our barns and our neighbours' also, with all the corn that was therein; albeit (saving God's pleasure) it is great pity of so much good corn lost; yet since it has liked him to send us such a chance, we must and are bounden, not only to be content, but also to be glad of his visitation. He sent us all that we have lost; and since he hath by such a chance taken it away again, his pleasure be fulfilled! Let us never grudge thereat, but take it in good worth, and heartily thank him, as well for adversity as for prosperity. And peradventure we have more cause to thank him for our loss than for our winning, for his wisdom better seeth what is good for us than we do ourselves. Therefore, I pray you be of good cheer, and take all the household with you to church, and there thank God, both for that he has given us, and for that he has taken from us, and for that he hath left us; which, if it please him, he can increase when he will, and if it please him to leave us yet less, at his pleasure be it!

I pray you to make some good onsearch what my poor neighbours have lost, and bid them take no thought therefore; for, if I should not leave myself a spoon, there shall no poor neighbour of mine bear no loss by my chance, happened in my house. I pray you be, with my children and your household, merry in God; and devise somewhat with your friends what way were best to take, for provision to be made for corn for our household, and for seed this year coming, if we think it good that we keep the ground still in our hands. And whether we think it good that we so shall do or not, yet I think it were not best suddenly thus to leave it all up, and to put away our folk from our farm, till we have somewhat advised us thereon. Howbeit, if we have more now than ye shall need, and which can get them other masters, ye may then discharge us of them. But I would not that any man were suddenly sent away, he wot not whither.

At my coming hither, I perceived none other but that I should tarry still with the king's grace. But now I shall, I think, because of this chance, get leave this next week to come home and see you, and then shall we farther devise together upon all things, what order shall be best to take.

And thus as heartily fare you well, with all our children, as ye can wish. At Woodstock, the third day of September, by the hand of
THOMAS MORE.
---

Cyclopædia of English literature. Vol I. Robert Chambers, Ed.
Edinburgh: William & Robert Chambers, 1844. 60.


---
| | |
| --- | --- |
| | to the Works of Sir Thomas More |
Site copyright ©1996-2018 Anniina Jokinen. All Rights Reserved.
Created by Anniina Jokinen on June 8, 2009. Last updated on December 11, 2018.







The Tudors

King Henry VII
Elizabeth of York

King Henry VIII
Queen Catherine of Aragon
Queen Anne Boleyn
Queen Jane Seymour
Queen Anne of Cleves
Queen Catherine Howard
Queen Katherine Parr

King Edward VI
Queen Mary I
Queen Elizabeth I
Henry Fitzroy, Duke of Richmond

Renaissance English Writers
Bishop John Fisher
William Tyndale
Sir Thomas More
John Heywood
Thomas Sackville
Nicholas Udall
John Skelton
Sir Thomas Wyatt
Henry Howard
Hugh Latimer
Thomas Cranmer
Roger Ascham
Sir Thomas Hoby
John Foxe
George Gascoigne
John Lyly
Thomas Nashe
Sir Philip Sidney
Edmund Spenser
Richard Hooker
Robert Southwell
Robert Greene
George Peele
Thomas Kyd
Edward de Vere
Christopher Marlowe
Anthony Munday
Sir Walter Ralegh
Thomas Hariot
Thomas Campion
Mary Sidney Herbert
Sir John Davies
Samuel Daniel
Michael Drayton
Fulke Greville
Emilia Lanyer
William Shakespeare


Persons of Interest
Cardinal Thomas Wolsey
Archbishop Thomas Cranmer
Thomas Cromwell
John Fisher, Bishop of Rochester
Cardinal Lorenzo Campeggio
Cardinal Reginald Pole
Stephen Gardiner, Bishop of Winchester
William Tyndale
Pico della Mirandola
Desiderius Erasmus
Christopher Saint-German
Thomas Linacre
William Grocyn
Hugh Latimer
Elizabeth Barton, the Nun of Kent
For more, visit Encyclopedia


Historical Events
Field of the Cloth of Gold, 1520
Pilgrimage of Grace, 1536
The Babington Plot, 1586
The Spanish Armada, 1588


Government
Oath of Supremacy
The Act of Supremacy, 1534
The First Act of Succession, 1534
The Third Act of Succession, 1544
The Ten Articles, 1536
The Six Articles, 1539
The Second Statute of Repeal, 1555


Images of London:
London in the time of Henry VII. MS. Roy. 16 F. ii.
London, 1510, earliest view in print
Map of England from Saxton's Descriptio Angliae, 1579
Location Map of Elizabethan London
Plan of the Bankside, Southwark, in Shakespeare's time
Detail of Norden's Map of the Bankside, 1593
Bull and Bear Baiting Rings from the Agas Map (1569-1590, pub. 1631)
Sketch of the Swan Theatre, c. 1596
Westminster in the Seventeenth Century, by Hollar
Visscher's Panoramic View of London, 1616. COLOR



For more, visit Encyclopedia