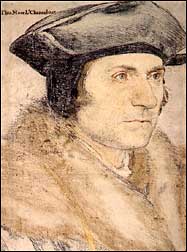 Holbein's sketch of Thomas More

Excerpt from

A Dialogue of Comfort Against Tribulation.

[HOW FAR IS RECREATION LAWFUL?]


Anthony And Vincent — Uncle And Nephew.
Vincent.—And first, good Uncle, ere we proceed farther, I will be bold to move you one thing more of that we talked when I was here before. For when I revolved in my mind again the things that were concluded here by you, methought ye would in no wise that in any tribulation men should seek for comfort, either in worldly things or fleshly, which mind, Uncle, of yours, seemeth somewhat hard, for a merry tale with a friend, refresheth a man much, and without any harm lighteth his mind and amendeth his courage and his stomach, so that it seemeth but well done to take such recreation. And Solomon saith I trow, that men should in heaviness give the sorry man wine to make him forget his sorrow. And Saint Thomas saith, that proper pleasant talking, which is called

1 is a good virtue serving to refresh the mind and make it quick and lusty to labour and study again, where continual fatigation would make it dull and deadly.
Anthony.—Cousin, I forgat not that point, but I longed not much to touch it, for neither might I well utterly forbear it, where the case might hap to fall that it should not hurt, and on the other side, if the case so should fall, methought yet it should little need to give any man counsel to it; folk are prone enough to such fantasies of their own mind. You may see this by ourself, which coming now together, to talk of as earnest sad matter as men can devise, were fallen yet even at the first into wanton idle tales: and of truth, Cousin, as you know very well, myself am of nature even half a giglot2 and more. I would I could as easily mend my fault as I well know it, but scant can I refrain it, as old a fool as I am: howbeit so partial will I not be to my fault as to praise it. But for that you require my mind in the matter, whether men in tribulation may not lawfully seek recreation and comfort themselves, with some honest mirth, first agreed that our chief comfort must be in God, and that with him we must begin, and with him continue, and with him end also. A man to take now and then some honest worldly mirth, I dare not be so sore as utterly to forbid it, sith good men and well learned, have in some case allowed it, specially for the diversity of divers men's minds: for else if we were all such, as would God we were, and such as natural wisdom would we should be, and it is not all clean excuseable that we be not in deed: I would then put do nought, but that unto any man the most comfortable talking that could be, were to hear of Heaven. Whereas now, God help us, our wretchedness is such that in talking a while thereof, men wax almost weary, and as though to hear of Heaven were an heavy burthen, they must refresh themselves with a foolish tale. Our affection toward heavenly joys waxeth wonderful cold. If dread of hell were as far gone, very few would fear God, but that yet a little sticketh in our stomachs. Mark me, Cousin, at the sermon, and commonly towards the end, somewhat the preacher speaketh of hell and Heaven : now while he preacheth of the pains of hell, still they stand and yet give him the hearing. But as soon as he cometh to the joys of Heaven, they be busking them backward and flockmeal3 fall away. It is in the soul somewhat as it is in the body. Some are there of nature or of evil custom come to that point, that a worse thing sometimes more steadeth4 them than a better.
Some man if he be sick, can away with no wholesome meat, nor no medicine can go down with him, but if it be tempered with some such thing for his fantasy as maketh the meat or the medicine less wholesome than it should be. And yet while it will be no better, we must let him have it so. Cassianus, the very virtuous, rehearseth in a certain collection of his that a certain holy father in making of a sermon, spake of heaven and heavenly things, so celestially, that much of his audience with the sweet sound thereof, began to forget all the world and fall asleep: which when the father beheld, he dissembled their sleeping and suddenly said unto them, "I shall tell you a merry tale." At which word they lift up their heads and hearkened unto that: and after the sleep therewith broken, heard him tell on of Heaven again. In what wise that good father rebuked then their untoward minds so dull unto the thing that all our life we labour for, and so quick and lusty toward other trifles, I neither bear in mind, nor shall here need to rehearse. But thus much of that matter sufficeth for our purpose, that whereas you demand me whether in tribulation men may not sometimes refresh themselves with worldly mirth and recreation, I can no more say, but he that cannot long endure to hold up his head and hear talking of Heaven, except he be now and then between (as though Heaven were heaviness) refreshed with a merry foolish tale, there is none other remedy but you must let him have it: better would I wish it, but I cannot help it. Howbeit, let us, by mine advice, at the leastwise make those kinds of recreation as short and as seldom as we can; let them serve us but for sauce, and make them not our meat, and let us pray unto God, and all our good friends for us, that we may feel such a savour in the delight of Heaven, that in respect of the talking of the joys thereof, all worldly recreation be but a grief to think on. And be sure, cousin, that if we might once purchase the grace to come to that point, we never found of worldly recreation so much comfort in a year, as we should find in the bethinking us of Heaven in less than half an hour.
Vincent.—In faith, Uncle, I can well agree to this; and I pray God bring us once to take such a savour in it: and surely as you began the other day, by faith must we come to it, and to faith by prayer.



1. eutrapelia, see word study by Edgar Foster.
2. giglot, wanton.
3. flockmeal, in flocks or troops. [wholesale]
4. steadeth, stands in good stead. [is of use]




---

Craik, Henry, ed. English Prose. Vol I.
New York: The Macmillan Company, 1916. 178-180.


---
| | |
| --- | --- |
| | to the Works of Sir Thomas More |
Site copyright ©1996-2018 Anniina Jokinen. All Rights Reserved.
Created by Anniina Jokinen on June 2, 2009. Last updated on December 11, 2018.






The Tudors

King Henry VII
Elizabeth of York

King Henry VIII
Queen Catherine of Aragon
Queen Anne Boleyn
Queen Jane Seymour
Queen Anne of Cleves
Queen Catherine Howard
Queen Katherine Parr

King Edward VI
Queen Mary I
Queen Elizabeth I
Henry Fitzroy, Duke of Richmond

Renaissance English Writers
Bishop John Fisher
William Tyndale
Sir Thomas More
John Heywood
Thomas Sackville
Nicholas Udall
John Skelton
Sir Thomas Wyatt
Henry Howard
Hugh Latimer
Thomas Cranmer
Roger Ascham
Sir Thomas Hoby
John Foxe
George Gascoigne
John Lyly
Thomas Nashe
Sir Philip Sidney
Edmund Spenser
Richard Hooker
Robert Southwell
Robert Greene
George Peele
Thomas Kyd
Edward de Vere
Christopher Marlowe
Anthony Munday
Sir Walter Ralegh
Thomas Hariot
Thomas Campion
Mary Sidney Herbert
Sir John Davies
Samuel Daniel
Michael Drayton
Fulke Greville
Emilia Lanyer
William Shakespeare


Persons of Interest
Cardinal Thomas Wolsey
Archbishop Thomas Cranmer
Thomas Cromwell
John Fisher, Bishop of Rochester
Cardinal Lorenzo Campeggio
Cardinal Reginald Pole
Stephen Gardiner, Bishop of Winchester
William Tyndale
Pico della Mirandola
Desiderius Erasmus
Christopher Saint-German
Thomas Linacre
William Grocyn
Hugh Latimer
Elizabeth Barton, the Nun of Kent
For more, visit Encyclopedia


Historical Events
Field of the Cloth of Gold, 1520
Pilgrimage of Grace, 1536
The Babington Plot, 1586
The Spanish Armada, 1588


Government
Oath of Supremacy
The Act of Supremacy, 1534
The First Act of Succession, 1534
The Third Act of Succession, 1544
The Ten Articles, 1536
The Six Articles, 1539
The Second Statute of Repeal, 1555


Images of London:
London in the time of Henry VII. MS. Roy. 16 F. ii.
London, 1510, earliest view in print
Map of England from Saxton's Descriptio Angliae, 1579
Location Map of Elizabethan London
Plan of the Bankside, Southwark, in Shakespeare's time
Detail of Norden's Map of the Bankside, 1593
Bull and Bear Baiting Rings from the Agas Map (1569-1590, pub. 1631)
Sketch of the Swan Theatre, c. 1596
Westminster in the Seventeenth Century, by Hollar
Visscher's Panoramic View of London, 1616. COLOR



For more, visit Encyclopedia