THE DESERTED LOVER



WISHETH THAT HIS RIVAL MIGHT EXPERIENCE THE SAME



FORTUNE HE HIMSELF HAD TASTED.



O rail or jest, ye know I use it not ;
Though that such cause sometime in folks
I find.
And though to change ye list to set your mind,
Love it who list, in faith I like it not.
And if ye were to me, as ye are not,
I would be loth to see you so unkind :
But since your fault must needs be so by kind ;
Though I hate it I pray you love it not.
Things of great weight I never thought to crave,
This is but small ; of right deny it not :
Your feigning ways, as yet forget them not.
But like reward let other Lovers have ;
That is to say, for service true and fast,
Too long delays, and changing at the last.


[AJ Notes:


list,

wish


by kind

, by nature (Wyatt is saying that women
by their very natures are changeable) ]


---
Audio reading ©2012 Anniina Jokinen:
To get the free Quicktime plugin, click here.
For the direct .MP3 file, click here.


---
Text source:
Yeowell, James, ed. The Poetical Works of Sir Thomas Wyatt.
London: George Bell and Sons, 1904. 22.

---
| | |
| --- | --- |
| | to the Works of Sir Thomas Wyatt |




Site copyright ©1996-2012 Anniina Jokinen. All Rights Reserved.
Created by Anniina Jokinen on January 12, 2001. Last updated January 21, 2012.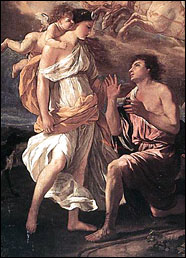 Selene and Endymion.
Nicolas Poussin, c.1630.