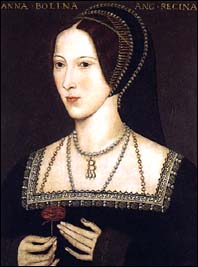 Anne Boleyn. Artist Unknown.
Hever Castle, Kent.

THE

LOVER SHOWETH HOW HE IS FORSAKEN

OF SUCH AS HE SOMETIME

ENJOYED.



HEY flee from me, that sometime did me
seek,
With naked foot stalking within my
chamber :
Once have I seen them gentle, tame, and meek,
That now are wild, and do not once remember,
That sometime they have put themselves in danger
To take bread at my hand ; and now they range
Busily seeking in continual change.
Thanked be Fortune, it hath been otherwise
Twenty times better ; but once especial,
In thin array, after a pleasant guise,
When her loose gown did from her shoulders fall,
And she me caught in her arms long and small,
And therewithal sweetly did me kiss,
And softly said, ' Dear heart, how like you this ?'
It was no dream ; for I lay broad awaking :
But all is turn'd now through my gentleness,
Into a bitter fashion of forsaking ;
And I have leave to go of her goodness ;
And she also to use new fangleness.
But since that I unkindly so am served :
How like you this, what hath she now deserved ?

---

Audio Excerpt from CD "Popular Poetry, Popular Verse"
For the direct .MP3 file, click here.


---







Image from Egerton MS 2711.



---
Source:
Yeowell, James, Ed. The Poetical Works of Sir Thomas Wyatt.
London: George Bell and Sons, 1904. 32.

---
| | |
| --- | --- |
| | to Sir Thomas Wyatt |



Site copyright ©1996-2018 Anniina Jokinen. All Rights Reserved.
Created by Anniina Jokinen on August 3, 2000. Last updated December 23, 2018.





The Tudors

King Henry VII
Elizabeth of York

King Henry VIII
Queen Catherine of Aragon
Queen Anne Boleyn
Queen Jane Seymour
Queen Anne of Cleves
Queen Catherine Howard
Queen Katherine Parr

King Edward VI
Lady Jane Grey
Queen Mary I
Queen Elizabeth I


Renaissance English Writers
Bishop John Fisher
William Tyndale
Sir Thomas More
John Heywood
Thomas Sackville
Nicholas Udall
John Skelton
Sir Thomas Wyatt
Henry Howard
Hugh Latimer
Thomas Cranmer
Roger Ascham
Sir Thomas Hoby
John Foxe
George Gascoigne
John Lyly
Thomas Nashe
Sir Philip Sidney
Edmund Spenser
Richard Hooker
Robert Southwell
Robert Greene
George Peele
Thomas Kyd
Edward de Vere
Christopher Marlowe
Anthony Munday
Sir Walter Ralegh
Thomas Hariot
Thomas Campion
Mary Sidney Herbert
Sir John Davies
Samuel Daniel
Michael Drayton
Fulke Greville
Emilia Lanyer
William Shakespeare


Persons of Interest
Visit Encyclopedia


Historical Events
Field of the Cloth of Gold, 1520
Pilgrimage of Grace, 1536
The Babington Plot, 1586
The Spanish Armada, 1588


Elizabethan Theatre
See section
English Renaissance Drama


Images of London:
London in the time of Henry VII. MS. Roy. 16 F. ii.
London, 1510, the earliest view in print
Map of England from Saxton's Descriptio Angliae, 1579
Location Map of Elizabethan London
Plan of the Bankside, Southwark, in Shakespeare's time
Detail of Norden's Map of the Bankside, 1593
Bull and Bear Baiting Rings from the Agas Map (1569-1590, pub. 1631)
Sketch of the Swan Theatre, c. 1596
Westminster in the Seventeenth Century, by Hollar
Visscher's Panoramic View of London, 1616. COLOR